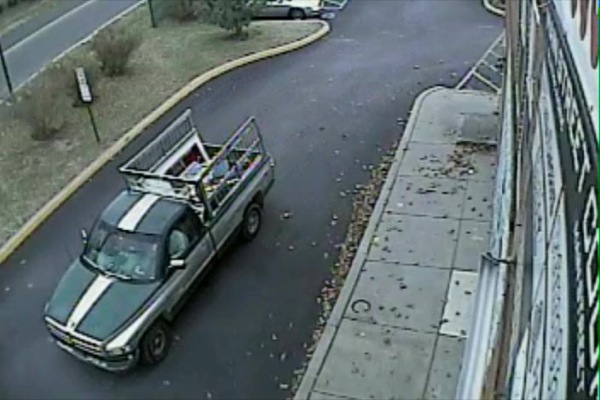 Intentional fire
Newark Police investigate fire set in trash bin
5:30 p.m., Dec. 14, 2012--Newark Police are seeking the public's assistance in identifying the suspect in an intentional fire set on Saturday, Nov. 24, in a trash bin in the parking lot behind Primo Hoagies on East Main Street. Police have released a photo of the suspect's vehicle.
Around 10:15 a.m., Nov. 24, a man was seen on surveillance video placing an unknown item into the trash bin. Moments later flames were seen coming from it. The suspect had been previously warned for trespassing on the property after he was observed searching for scrap metal in the trash bins.
The suspect is described as a man in his later 50s to early 60s who is missing numerous teeth. He was operating an older model dark green and silver Dodge Ram truck with a silver racing stripe on the hood and ladder racks on the back. 
Anyone with information is asked to contact Officer Ronald Zappaterrini at 302-366-7110, ext. 444 or ronald.zappaterrini@cj.state.de.us. Anonymous tips can be texted to 302NPD with the message to TIP411. Information also can be provided anonymously to Crime Stoppers at 1-800-TIP-3333 or www.tipsubmit.com, where a reward may be available. 
Visit this website to receive a UD Crime Alert email whenever an article about a police investigation is posted on UDaily.