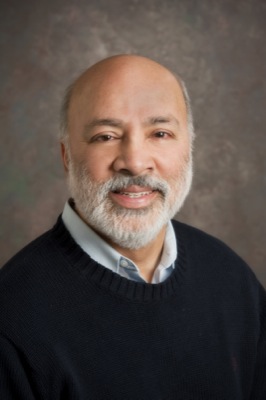 Global citizenship
UD professor honored for humanitarian efforts in Pakistan, Afghanistan
10:57 a.m., Dec. 13, 2012--The University of Delaware not only includes talented professors, but professors who make outstanding efforts to make the world a better place.
Ismat Shah, professor in the departments of Materials Science and Engineering and Physics and Astronomy, is a prime example.
Fulbright awards
Three University of Delaware students and an alumna have received word this spring that they will travel abroad as part of the newest class of Fulbright Student Program award winners.
Peace Corps plans
Two University of Delaware students, John McCarron and Bridgette Spritz, have been selected as Peace Corps volunteers and will serve in Ghana and Rwanda.
Shah was recently awarded the Madhuri and Jagdish N. Sheth International Alumni Award for Exceptional Achievement by the University of Illinois at Urbana-Champaign for his dedicated humanitarian efforts, particularly his efforts to raise funds and resources for Pakistani and Afghan refugees affected by natural disaster and war.
"We wish to pay tribute to your international civic engagement, global citizenship and leadership, which are not bound by national or social borders," wrote Phyllis M. Wise, chancellor of University of Illinois at Urbana-Champaign in a letter to Shah announcing his selection.
Shah, who joined the University of Delaware faculty in 2004, has long worked to encourage social understanding between Muslim communities and other religious and cultural groups.
While at the University of Illinois, he fostered cross-cultural relationships with international students, work he continued in Delaware, especially after the events of 9/11, delivering more than 50 lectures at local churches, police academies and local schools on "Understanding Islam."
He has also promoted advanced education in Pakistan by building schools, supplying equipment, and delivering lectures and workshops about alternative energy sources in developing nations. 
Shah says one of his greatest accomplishments was building a school in the Jalozaii refugee camp in Pakistan following 9/11. For six years the school catered to girls in grades 1-5 and included approximately 300 students per year.
Known as a leader and mentor at UD, Shah organized the first Engineering Study Abroad program in 2001, to further his students' understanding of diverse cultural values. Under his leadership, students have visited Germany, Italy, Greece, Spain, France and Turkey.
Last fall he worked with the U.S. Embassy in Azerbaijan, while a Fulbright Scholar, to coordinate community speaking engagements with local high school and college students. Azerbaijan is an Eastern European country adjacent to politically embroiled countries including Iran.
In 2011 Shah received UD's highest teaching award, the Excellence in Teaching Award, an honor based primarily on nominations from current and past students. He was similarly honored by the College of Engineering in 2007.
Article by Megan Marschall
Photo by Kathy F. Atkinson