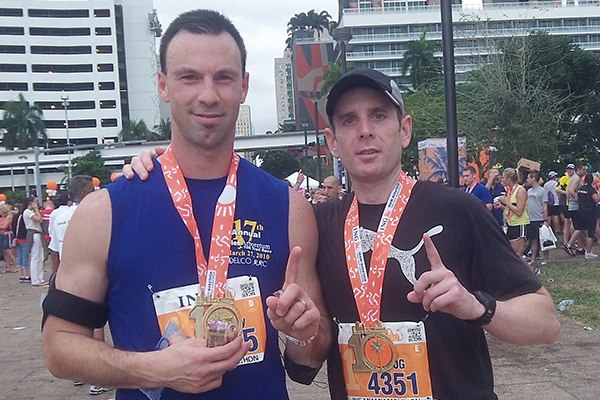 12 in 12 in 2012
UD alumnus Dan Schultz completed a marathon a month in 2012
9:02 a.m., Dec. 6, 2012--Dan Schultz, a 1997 University of Delaware graduate, and his childhood friend Craig Davidson are calling it the 12 in 12 in 2012. Together they have run 12 marathons in 12 months – and in 12 states -- during 2012, each running for a cause.
"It's a really cool way to stay in shape and keep us motivated," Shultz explained. Davidson is supporting Back on My Feet, a non-profit aimed at boosting the confidence of the homeless through running. And Schultz is raising money for alumni of Academy Park High School in Sharon Hill, Pa., where he works. 
'Resilience Engineering'
The University of Delaware's Nii Attoh-Okine recently published a new book with Cambridge University Press, "Resilience Engineering: Models and Analysis."
Reviresco June run
UD ROTC cadets will run from New York City to Miami this month to raise awareness about veterans' affairs.
Both Schultz and Davidson raised more than $1,000 for their causes after their final race, held Sunday, Dec. 2, in Las Vegas.
Family, friends and fellow runners kept up to date through the blogs My Running World and 12 in 12 in 2012, where they displayed photos and links for each marathon.
Schultz commented that everything ran smoother than he expected, also sharing one particularly challenging race to attend. "I missed my Friday night flight to Myrtle Beach and had to rent a car." With the marathon starting at 6:30 a.m., Schultz made it with 3 hours to spare.
The two runners balanced their busy schedules by running marathons in nearby states, as well as a few farther away – 12 different states, in keeping with the year's theme. They include:
Jan. 29 – Miami
Feb. 18 – Myrtle Beach, S.C.
Mar. 25 – Cape May, N.J.
April 7 – Charlottesville, Va.
May 13 – Wilmington, Del.
June 10 – Lake Placid, N.Y.
July 29 – San Francisco
Aug. 25 – Harrisville, W.Va.
Sept. 30 – Portland, Maine
Oct. 13 – Baltimore
Nov. 11 – Harrisburg, Pa.
Dec. 2 – Las Vegas
At one of the earlier races, Schultz says he tried to do something kind of crazy by running a marathon in jeans to get on the website joggingjeans.com, which turned into an entire section called the "We Love Dan" Fan Club, following Davidson and Schultz through their 12 in 12 in 2012.
Schultz shared his amazement at successfully completing the 2012 challenge, saying, "As the year went on I thought my body would break down a bit but I was recovering much quicker after each race."
Staying in top condition required Schultz to train once every weekday and twice on weekends to prepare for each marathon. "There were a few times we had marathons a week apart," he said.
However, for Schultz and Davidson, it's not all about winning. "We have been doing them at a leisurely pace and enjoying it," Schultz added. "There are other races where I try to run fast, but it's not the same as enjoying it."
"It's also a good way for Craig and I to see each other, since he lives in New York," said Schultz, a captain on the Blue Hens men's soccer team while at UD.
The two friends have received loving support from friends and family. Schultz's father, Scott Schultz, expressed his admiration for the childhood friends, saying, "While they have paved their own paths to success, they found a way to stay connected. This is a great story of friendship and commitment, and their story may just inspire others to set the bar higher for themselves."
Article by Sarah E. Meadows