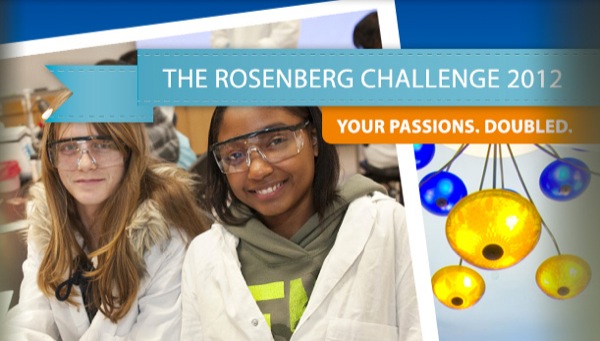 Rosenberg Challenge successful
Young alumni contribute $35,000 in gifts to the University
10:50 a.m., Dec. 13, 2012--More than 350 University of Delaware young alumni participated in the recent Rosenberg Challenge, donating over $35,000, collectively, to the University.
Sponsored by UD alumni Michael and Joanne Rosenberg, both members of the Class of 1988, the challenge provided a one-to-one match for all gifts up to $1,000 made by undergraduate alumni from the classes of 2003-12, up to a total of $25,000.
From graduates, faculty
As it neared time for the processional to open the University of Delaware Commencement ceremonies, graduating students and faculty members shared their feelings about what the event means to them.
Doctoral hooding
It was a day of triumph, cheers and collective relief as more than 160 students from 21 nations participated in the University of Delaware's Doctoral Hooding Convocation held Friday morning on The Green.
"We hoped this challenge would inspire young students to give back to the areas at the University of Delaware about which they were most passionate — and it has," said Joanne Rosenberg. "We are thrilled that young alumni chose to participate in the challenge and that they reached the goal early."
Michael Rosenberg, an Alfred Lerner College of Business and Economics alumnus, and Joanne Rosenberg, a College of Health Sciences graduate, met nearly 30 years ago as neighbors in the Russell B residence hall. They have remained active in the UD community and are committed to supporting future Blue Hens.
The challenge began on Oct. 1, and in just six weeks, 352 alumni had met the challenge goal of $25,000 in gifts to the UD programs of their choice, ranging from the Lerner College of Business and Economics to campus radio station WVUD. The challenge was set to end Nov. 30 if the goal had not been met.
"UD has given me an incredible college experience, my first job, and the skills and drive that have helped me land where I am now," said Avi Amon, Class of 2008. "Why wouldn't I help? What goes around comes around."
Alumni who made gifts of $250 or more received membership into the Delaware Diamonds Society, which recognizes UD alumni, parents, faculty, staff, students and friends devoted to encouraging exemplary levels of financial support. Normally, a gift of $500 or more is required of young alumni for inclusion in the society, but the Rosenbergs' matching gift made new or renewed membership possible for 22 challenge donors. 
"I support UD to help students have the same benefits and resources that I was fortunate to take advantage of," said Christopher McElwee, Delaware Diamonds Society member. "I hope that with my support, UD Student Centers will enhance the student experience by providing better opportunities and programmed events."
The top designated gift areas were the College of Arts and Sciences, the Lerner College of Business and Economics, the College of Engineering and the University of Delaware Initiative Fund.
Other popular allocations included the UD Chorale, baseball, the men's crew shell fund and the UD Honors Program.
Young alumni are encouraged to continue giving to the University all year. For the final results and honor roll of the Rosenberg Challenge, visit the website.
For more information of how to give to UD, visit www.udel.edu/giving.