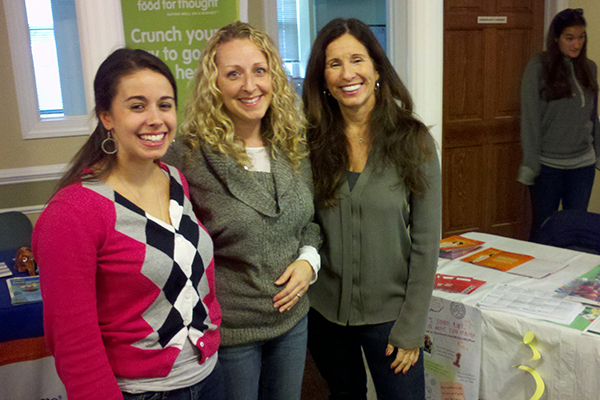 Preventing prematurity
Nursing staff member to serve as preconception health nurse educator for state
9:50 a.m., Dec. 3, 2012--During her 11-year stint as a neonatal intensive care unit (NICU) nurse, Anne DeCaire cared for hundreds of tiny babies born with serious health problems.
A recruitment officer in the University of Delaware School of Nursing since 2004, DeCaire was recently hired to serve part-time as a statewide Preconception Health Nurse Educator for a partnership involving the Delaware March of Dimes, the Delaware Healthy Mother and Infant Consortium (DHMIC), and the Delaware Division of Public Health.
'Resilience Engineering'
The University of Delaware's Nii Attoh-Okine recently published a new book with Cambridge University Press, "Resilience Engineering: Models and Analysis."
Reviresco June run
UD ROTC cadets will run from New York City to Miami this month to raise awareness about veterans' affairs.
DeCaire eagerly pursued this position. "I'm passionate about women and children's health, so this opportunity really called to me," she says.
More than half a million babies are born prematurely each year in the United States. According to the March of Dimes, premature birth is a complex problem with no single solution. 
However, it is known that healthy mothers are more likely to give birth to healthy babies, and that's where preconception health comes into the picture.
"About 50 percent of pregnancies are unplanned, so prenatal care is too little too late," says DHMIC chair Susan Noyes. "We're focusing on preconception care, which is aimed at promoting the health of all women of child-bearing age, as the best way to improve pregnancy-related outcomes."
Preconception care addresses a broad range of issues, from chronic illness, STDs, and obesity to nutrition, exercise, smoking, and alcohol and drug use.
UD already has a student-led preconception peer education (PPE) program, which is part of the national "A Healthy Baby Begins with You" campaign. Launched in 2007 by the Department of Health and Human Services' Office of Minority Health, the campaign is aimed at raising awareness about infant mortality, with an emphasis on the African American community, as part of the OMH's effort to end health disparities among racial and ethnic minorities.
The PPE program recently became a registered student organization at UD, and president Emily Gentile is creating a toolkit for PPEs across the state. For related story, click here.
DeCaire sees the student program and her own recent appointment as a perfect fit with the College of Health Sciences' agenda to address health disparities and its commitment to reach out to the community.
"When you see what I've seen in the NICU, you realize that we need to be concerned about healthy women," she says. "Preconception health is a preventive model, and the challenge is to get people to adopt that approach — to focus on maintaining health and wellness rather than treating illness and disability."
With the new position, DeCaire will become the content expert for a number of programs that are already in place as well as seek out new partners to promote preconception health and raise awareness.
"Anne's new role will further extend the reach of what we're doing at the state and local level to better the health of women and children, including women on college campuses, across our state," says UD School of Nursing Director Kathy Schell.
Article by Diane Kukich