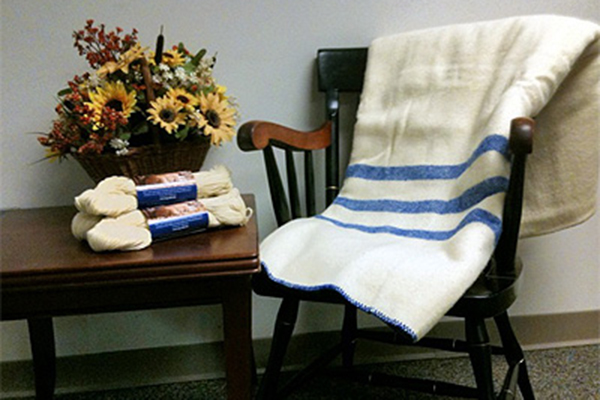 Native Delaware: Holiday shopping
These unique holiday gift ideas have a First State focus
9:18 a.m., Dec. 17, 2012--Haven't finished your holiday shopping yet? You're not alone. Only 47 percent of Americans have their shopping wrapped up by the second week of December, according to the National Retail Federation. But the clock is ticking.
No worries. We've rounded up some great gift ideas. Best yet, many of these choices have a uniquely Delaware focus. Some – like soil test kits and garden gloves – are tailor-made for outdoorsy types. Other gifts – like Delaware wool blankets — work equally well for couch potatoes who just gaze at the landscape from their windows.
From graduates, faculty
As it neared time for the processional to open the University of Delaware Commencement ceremonies, graduating students and faculty members shared their feelings about what the event means to them.
Doctoral hooding
It was a day of triumph, cheers and collective relief as more than 160 students from 21 nations participated in the University of Delaware's Doctoral Hooding Convocation held Friday morning on The Green.
Sure-fire way to get owls in the backyard
The young – and young at heart – will love Hoot the Owl, a chubby creature made from sunflower seed, with apple and apricot rings for eyes and an almond for the mouth. 
"I stuck one in my backyard and set up a time-release camera," says Charles Shattuck, who, with his wife Kathy, owns Wild Birds Unlimited in Hockessin. "I'm getting a wide variety of birds feeding at it. By late December, I expect 'Hoot' and my other feeders will be attracting white-breasted and red-breasted nuthatches; downy, red-bellied and hairy woodpeckers; and yellow-bellied sap suckers."
At $9.50, Hoot the Owl is a good choice for a stocking stuffer or gift exchange at work. 
Wild Birds also stocks black oil sunflower seed in bulk that is grown locally, by Jamie Hicks of Kennett Square, Pa. Buy a pound or several pounds for the birdwatcher on your list. 
Most serious birdwatchers prefer black oil seed. It has a higher oil content than other varieties so it provides the birds with more calories. Plus, small birds have an easier time cracking its thinner shell.
Or, consider a $22 hand-painted ornament by Dover artist Marcia Poling. Choose images of bluebirds, woodpeckers and warblers, as well as deer, rabbit and other mammals.  "They've been selling well," says Shattuck.
Warm and woolly choices
The University of Delaware's flock of Dorset ewes are sheared every spring before going out to summer pasture. Previously, their wool was sold at a regional auction to wool processors. Then farm superintendent Scott Hopkins and Lesa Griffiths, professor of animal and food sciences, put their heads together and, soon after, Blue Hen Blankets and Yarn was born. Now, after the sheep are sheared, the wool is sent to a Canadian mill to create cozy blankets. 
A lap throw style, the blanket has plenty of heft — each requires four pounds of wool. Get one for $100 at the UDairy Creamery on UD's South Campus. For creamery hours go to the website.
Hori hori knives and other garden gear
When it comes to garden tools, Carrie Murphy is a minimalist. A UD Cooperative Extension horticulture agent, Murphy gets by with a few common tools plus one that's a bit more exotic. "I use my hori hori knife all the time," she says.
In Japanese, the word "hori" means to dig and that's exactly what Murphy does with her knife, plus pruning and weeding and a whole lot more. It's the Swiss army knife of gardening. 
At Gateway Garden Center in Hockessin, the hori hori is usually just called a soil knife, says owner Peg Castorani. She likes it for dividing perennials. A stainless steel version in a case costs $39.99.
Finding garden gloves that fit well can be hard, especially for women, but Castorani likes Womanswork brand. "They make form-fitting, athletic style garden gloves," she says. The $25 gloves come in purple, lime green and other bright colors.
A plastic bag sounds like an odd present until you learn what that bag can do. Gateway stocks test kits from the University of Delaware Soil Testing Program. The $10 kits include plastic bags to obtain the necessary samples. After UD analyzes the samples, your gardener will know whether pH or fertility problems are making it more difficult to grow plants.
Bring the outside in
Native Americans used birch bark to make canoes and cover their wigwams. Today hobbyists continue to take advantage of birch's flexible nature to craft household items, ranging from baskets to picture frames. Wilmington resident Danielle Quigley makes handcrafted wood items when she's not working as a photographer for UD. (Quigley regularly shoots the photos for this column.) One of her best-selling items is a $325 table light featuring a birch bark shade mounted on a vintage glass base. Quigley's personal favorite is a $150 luminaire made from silver birch bark. Check them out at the website.
Article by Margo McDonough