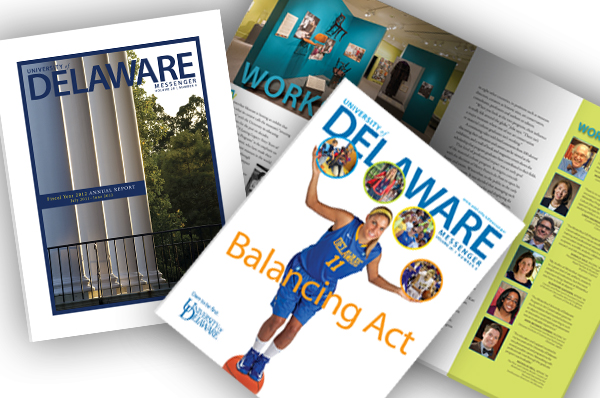 New 'UD Messenger'
December issue of magazine, annual report both available online
10:41 a.m., Dec. 21, 2012--The newest edition of the University of Delaware Messenger magazine can be viewed online at this website, where an interactive PDF version also is available. The print magazine, which is sent to alumni, parents and friends, will be mailed by early January.
In addition, the University has published the FY2012 Annual Report highlighting accomplishments, special projects and institutional facts and figures from the period between July 2011 and June 2012. The report, which is produced as a special fourth edition of the Messenger this year, is posted in an interactive format on President Patrick Harker's website and can be viewed here.
From graduates, faculty
As it neared time for the processional to open the University of Delaware Commencement ceremonies, graduating students and faculty members shared their feelings about what the event means to them.
Doctoral hooding
It was a day of triumph, cheers and collective relief as more than 160 students from 21 nations participated in the University of Delaware's Doctoral Hooding Convocation held Friday morning on The Green.
The Messenger contains news from the campus, including articles about faculty and student research and athletics, as well as profiles of UD alumni and their remarkable personal and professional accomplishments.
The current issue features alumni who combined an academic background in history and material culture studies with a love of cooking; who used the problem-solving skills developed as a chemical engineering student to start a successful, high-end women's shoe company; who for eight years designed the annual Philadelphia Flower Show, America's oldest and largest exhibition of its kind; who lead technological-innovation efforts at a major firm and at national laboratories; and who devote their time to helping the nation's wounded warriors. Readers can also enjoy photos and news from the Class of 2016's Twilight Induction Ceremony welcoming freshmen to campus and from Homecoming 2012, welcoming alumni back.
The Annual Report includes year-in-review highlights; an overview of the University's financial health and its economic impact on the state and the region; a look at some of the prominent speakers — authors, elected officials such as alumni Vice President Joseph Biden and New Jersey Gov. Chris Christie, policymakers and journalists — who visited UD to share their perspectives with the community; leading-edge research being conducted by faculty and students; and plans for continuing to build a better campus with such projects as the Interdisciplinary Science and Engineering Laboratory now under construction and the development of the Science, Technology and Advanced Research (STAR) Campus, on the site of the former Chrysler Newark Assembly Plant.