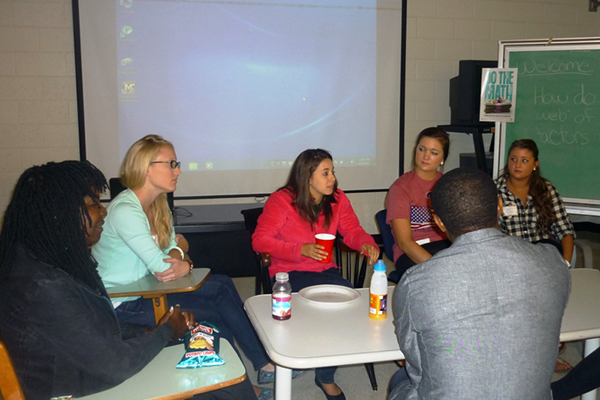 Healthy mothers, healthy babies
Nursing student develops toolkit for preconception peer education
9:50 a.m., Dec. 3, 2012--Emily Gentile has always been interested in health disparities and she loves babies, so being president of the University of Delaware's Preconception Peer Educators (PPE) is a perfect fit for the nursing student.
"Our focus is on educating our peers about preconception health and raising awareness about infant mortality," Gentile says. "Almost half of pregnancies are unplanned, but we aren't teaching birth control — we're encouraging young women to have a plan to be healthy so that if they do become pregnant, they have a much better chance of delivering full-term, healthy babies."
'Resilience Engineering'
The University of Delaware's Nii Attoh-Okine recently published a new book with Cambridge University Press, "Resilience Engineering: Models and Analysis."
Reviresco June run
UD ROTC cadets will run from New York City to Miami this month to raise awareness about veterans' affairs.
Involved with the organization since her freshman year, Gentile saw a need for a toolkit that all PPEs could use in raising awareness, and she decided to do something about it. Now a senior, she began a special project this semester to collect and package preconception health resources, including websites, fact sheets, PowerPoint presentations, abstracts, videos, and board games.
She is advised jointly by Gail Wade, associate professor in UD's School of Nursing, and Susan Noyes, chair of the Delaware Healthy Mother and Infant Consortium (DHMIC).
"We focus on preconception care to promote the health of all women of child-bearing age as the best way to improve pregnancy-related outcomes," Noyes says. "Emily has been doing some really fine work in this area — she's taken the whole program to another level with a toolkit that will make everyone's job easier."
Gentile is organizing the toolkit into three categories to correspond with DHMIC programs for three populations — teens, men and young women. "We're looking for materials that are age and gender appropriate," she says. "Our goal is for everyone to make healthy choices by reducing risk factors, developing healthy relationships, and getting checkups."
At the end of her year-long project, Gentile aims to have a website where PPEs from UD as well as Delaware State University can log in, select topics, and find suitable materials.
"Emily has been a real driver in pulling many resources together so that the peer educators can do their outreach," Wade says.
The project is part of a statewide collaboration among UD, DSU, DHMIC, the Delaware March of Dimes, and the Delaware Division of Public Health. 
Anne DeCaire, a recruitment officer in the UD School of Nursing, was recently hired to serve as a statewide Preconception Health Nurse Educator for the partnership. For related story, click here.
About the Preconception Peer Education Program
UD's student-led PPE program is part of the national "A Healthy Baby Begins with You" campaign. Launched in 2007 by the Department of Health and Human Services' Office of Minority Health (OMH), the campaign is aimed at raising awareness about infant mortality, with an emphasis on the African American community, as part of the OMH's effort to end health disparities among racial and ethnic minorities.
Since 2010, college students who complete a preconception peer education program based on the OMH curriculum have been actively involved with community and campus outreach. Since its inception, the program has expanded to include other colleges throughout the state as well as Health Ambassadors from a local community program. 
The program was designed to educate college students as peer educators so that they in turn can spread the word about preconception health to others. Through partnerships with the Delaware Healthy Mother's Consortium (DHMIC) and outreach to community agencies, the peer educators have used a variety of traditional and social media approaches to engage young men and women in preconception health. 
The PPE program became a registered student organization (RSO) at UD this year, and its membership is growing rapidly.
Article by Diane Kukich