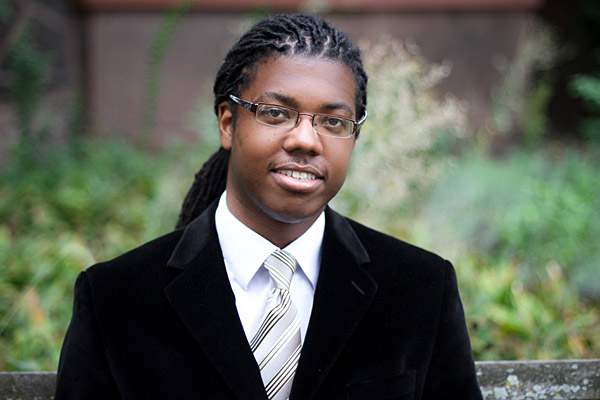 For the Record, Dec. 7, 2012
Campus community reports honors, presentations, publications
10:38 a.m., Dec. 7, 2012--For the Record provides information about recent professional activities of University of Delaware faculty, staff, students and alumni.
Recent honors, presentations and publications include the following:
From graduates, faculty
As it neared time for the processional to open the University of Delaware Commencement ceremonies, graduating students and faculty members shared their feelings about what the event means to them.
Doctoral hooding
It was a day of triumph, cheers and collective relief as more than 160 students from 21 nations participated in the University of Delaware's Doctoral Hooding Convocation held Friday morning on The Green.
Honors
Atnre Alleyne, a doctoral student in the Department of Political Science and International Relations, is one of seven recipients of the national K. Patricia Cross Future Leaders Award for 2012, given by the Association of American Colleges and Universities. The award recognizes graduate students who show exemplary promise as future leaders of higher education, and the recipients were chosen through a highly competitive process involving more than 260 nominations from universities across the U.S. In June, Alleyne was selected as a Strategic Data Project Fellow by Harvard's Center for Education Policy Research, and he and his wife are the founders of a college-access organization for underrepresented students.
Marsha Ann Dickson, professor and chair of the Department of Fashion and Apparel studies, said the University of Delaware received a nomination for the international SOURCE Awards in the education category. The SOURCE Awards acknowledge dedication to sustainable fashion in 12 different categories. UD was one of eight finalists that received a nomination in the Education category for the graduate certificate program in Socially Responsible and Sustainable Apparel Business. The program addresses labor and environmental problems in the global supply chains for the apparel, textile and footwear industries. The award recognizes a commitment to integrating sustainability into education and creating future fashion employees who emphasize ethics and the environment.
Jeffrey Smith, a senior in the College of Agriculture and Natural Resources majoring in ecology and environmental science, received an Undergraduate Student Achievement in Entomology Award presented by the Plant-Insect Ecosystems section of the Entomological Society of America at the organization's annual meeting in Knoxville, Tenn. The award included $1,500, which can be used toward travel expenses for the winning students to participate in the ESA meeting. Award winners must attend the ESA National meeting and participate by submitting and presenting a paper or poster. Smith is an Honors Program student at UD.
Presentations
Margaret D. Stetz, Mae and Robert Carter Professor of Women's Studies and professor of humanities, was an invited speaker at "Korean/Asian Comfort Women Issues, Then and Now," a symposium held at George Mason University, where she presented a paper titled "Teaching 'Comfort Women' Issues in the U. S. from a Feminist Perspective," Dec. 1. The symposium, which included a keynote speech by Congressman Michael Honda of the U. S. House of Representatives, commemorated the 20th anniversary of the founding of the Washington Coalition for Comfort Women Issues, a non-governmental activist organization, and featured a speech by Yong Soo Lee, a survivor of the Imperial Japanese Army's system of sexual slavery during World War II. Stetz was co-organizer in 1996 of the first international academic conference in the U.S. on the subject of "comfort women" and co-editor of the volume Legacies of the Comfort Women of World War II (M. E. Sharpe, 2001).
Tricia Wachtendorf, associate director of the Disaster Research Center and associate professor of sociology, and Tania Roth, assistant professor of psychology, made presentations during the 13th Japanese-American Kavli Frontiers of Science Symposium held Nov. 30-Dec. 2 in Irvine, Calif. In a session on "Aftermath of Disasters," Wachtendorf spoke on "Situated Access: How Physical and Social Location Influence Post-Disaster Assistance," and in a session on "Epigentics: Was Lamarck Right?," Roth spoke on "Adverse Caregiving During Postnatal Development Alters Epigenetic Gene Regulation and Behavior." The Japanese-American Kavli Frontiers of Science symposia are sponsored by the National Academy of Sciences and the Japan Society for the Promotion of Science.
Alice Ba, director of Asian studies and associate professor of political science and international relations, presented an invited paper, with Prof. Ian Storey of the Institute of Southeast Asian Studies, Singapore, "Recent Developments in the South China Sea: Continuity and Change" at the Fourth International Workshop - The South China Sea: Cooperation for Regional Security and Development, Nov. 19-21, Ho Chi Minh City, Viet Nam (Diplomatic Academy of Viet Nam and Viet Nam Lawyers Association).
Center for Disabilities Studies ACCESS (Adapting Curriculum and Classroom Environments for Student Success) project staff members Julie Bowers and Stephanie DeMayo, along with UD alumna Sarah Celestin of the Delaware Department of Education, were presenters at a session of the 23rd annual Council of Administrators of Special Education (CASE) Conference, "Action with Authentic Leadership: Let's do it Together!," in November. CASE is a division of the Council for Exceptional Children. Their topic was "Partnerships Promoting Transformation Change: Shifting Perspectives to Provide Access to General Education Curriculum for Students with Significant Disabilities."
Laura Eisenman, associate professor of education and principal investigator with the Transition and Postsecondary Programs for Students with Intellectual Disabilities (TPSID) project in the Center for Disabilities Studies, and graduate assistant Mary Culnane made a presentation about the project's peer mentoring component at the Pennsylvania Educational Research Association conference on Oct. 5 in Philadelphia.
Publications
Monika Shafi, Elias Ahuja Professor of German in the Department of Foreign Languages and Literatures and chairperson of the Department of Women and Gender Studies, is the author of Housebound: Selfhood and Domestic Space in Contemporary German Fiction, published in October by Camden House.
Elizabeth Soslau, assistant professor of education and coordinator of the Master of Instruction Program, and Kimberly Kirn reviewed "Strong Community Service Learning: Philosophical Perspectives" by Eric Sheffield in Education Review, 15, Dec. 4.
Brian Freedman, director of the Transition, Education and Employment Model (TEEM) unit at the Center for Disabilities Studies, is a co-author of an article that was published in the November/December 2012 issue of Journal of Development and Behavioral Pediatrics. An abstract of "Determinants of Appointment Absenteeism at an Outpatient Pediatric Clinic" is available online. He also is a co-author of an article published in the fall 2012 issue of Autism Advocate. "A Diagnosis of Autism is Not a Prognosis for Divorce" is available in this online magazine.
Freedman also is a co-author of an article that will be published in the next issue of Journal of Pediatric Emergency Care. A pre-publication abstract for "Psychiatric-Related Emergency Department Visits Among Children with an Autism Spectrum Disorder" is available online. This study was the first to compare mental-health related emergency department visits between children with and without autism spectrum disorders. More information about the results of the study are available from the Kennedy Krieger Institute.
To submit information to be included in For the Record, write to ud-ocm@udel.edu.