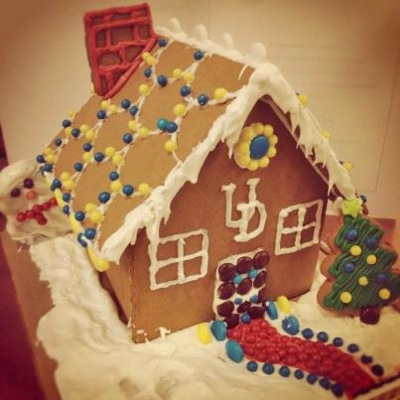 Gingerbread build
Cast Facebook 'likes' for favorite UD gingerbread houses
4:13 p.m., Dec. 10, 2012--University of Delaware Dining Services held its annual Gingerbread House Build on Thursday, Dec. 6, in the Scrounge in the Perkins Student Center.
Students showed their creativity in assembling the gingerbread houses, which are currently on display at various dining halls throughout campus and will be donated to the Ronald McDonald House to be used as Christmas decorations.
From graduates, faculty
As it neared time for the processional to open the University of Delaware Commencement ceremonies, graduating students and faculty members shared their feelings about what the event means to them.
Doctoral hooding
It was a day of triumph, cheers and collective relief as more than 160 students from 21 nations participated in the University of Delaware's Doctoral Hooding Convocation held Friday morning on The Green.
A twist added in this year's event happened when students arrived to find out the event was a competition.
Students posted pictures of their decorated houses on the Dining Services Facebook page and the gingerbread house with the most likes and/or comments will win. See the houses and vote at this site.