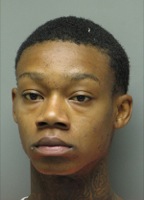 Burglary arrest
Newark Police arrest man in car burglaries on Kells Avenue
3:10 p.m., Dec. 10, 2012--Newark Police have arrested Robert O. Davis III, 21, of Middletown, Del., for burglaries and related charges after he was observed attempting to enter vehicles on Kells Avenue on Sunday, Dec. 9.
Around 7:40 a.m., Newark Police officers responded to the unit block of Kells Avenue after two different homeowners observed a man pulling on vehicle door handles, attempting to gain entry. 
Officers found Davis walking on Kells Avenue after he discarded a bicycle he was reported to have been riding in the roadway. Police found stolen items in his possession that were traced to a vehicle parked in a driveway on the street. These items included loose change, U.S. currency and an FM transmitter. 
Police determined that he had tried to gain entry into three additional vehicles on the block and are attempting to locate the owner of the recovered bicycle, which is described as a silver Magna mountain bike, as well as an iPhone that did not belong to the suspect.
Davis was charged with one count of third degree burglary, three counts of attempted third degree burglary, one count of theft under $1,500, two counts of tampering with a motor vehicle and one count of third degree criminal trespass. He was arraigned at JP Court #11 and released on $14,500 unsecured bond. 
The arrest follows an alert issued by Newark Police on Dec. 5 warning residents of an increase in theft from vehicles. 
Anyone with additional information on the incident should contact PFC Michael Wolfrom at 302-366-7110, ext. 468 or at michael.wolfrom@cj.state.de.us. Anonymous tips can be texted to 302NPD with the message to TIP411. Information also can be provided anonymously to Crime Stoppers at 1-800-TIP-3333 or www.tipsubmit.com, where a reward may be available. 
Visit this website to receive a UD Crime Alert email whenever an article about a police investigation is posted on UDaily.