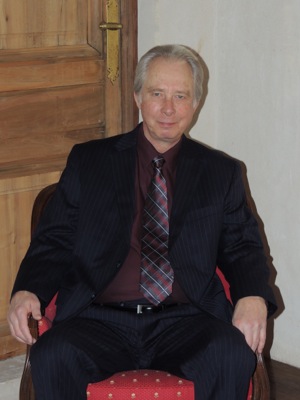 Philosophy of medicine
Series of international conferences celebrate work of UD's Boorse
10:32 a.m., Dec. 5, 2012--Three international conferences this fall focus on the work of Christopher Boorse, professor of philosophy at the University of Delaware, and his renowned work in developing concepts of health and disease.
The first, "Christopher Boorse and the Philosophy of Medicine," took place over three days in September at the University of Hamburg, Germany, where Boorse presented three new papers and other leading philosophers of medicine delivered talks. Organizers said the purpose of the conference was to honor Boorse and his contributions to the field and to "showcase the current state of philosophy of medicine by giving the floor to a number of other well-known scholars."
Fulbright awards
Three University of Delaware students and an alumna have received word this spring that they will travel abroad as part of the newest class of Fulbright Student Program award winners.
Peace Corps plans
Two University of Delaware students, John McCarron and Bridgette Spritz, have been selected as Peace Corps volunteers and will serve in Ghana and Rwanda.
Boorse's wide recognition began with a set of essays he wrote in the 1970s, arguing that Western scientific medicine is founded on a theoretical concept of health as the absence of disease. He developed the Biostatistical Theory, a naturalistic view of disease as biological dysfunction, which has been widely discussed and criticized by other philosophers.
At the Hamburg symposium, Boorse presented a new paper answering his critics. A second paper, focusing on the goals of medicine, evaluated claims about an "internal" morality of medicine limiting the acceptable scope of physicians' activities. Because Western medical practice accepts many treatments that do not aim to improve health, he argued, there is no internal moral obstacle to physicians acting in controversial ways to benefit their patients.
His third new paper presented in Hamburg explored whether recent medicine confuses disease with the risk of disease, in such diagnoses as hypertension, high cholesterol and obesity.
The second conference, "Health and Disease Concepts with the American Philosopher of Medicine Christopher Boorse," took place at the University of Lyon, France, over two days in November and featured nine speakers from France, Switzerland and Spain.
The third conference will take place on Friday, Dec. 7, at King's College in London and will focus on applying Boorse's biostatistical theory of health to mental disorders. He will speak on the topic "Is Grief Pathological?" and analyze the disputed analogy between grief and ordinary wound healing.
Organizers said the London conference will "offer the unique opportunity" to meet Boorse, who is in Europe for the first time in more than 30 years, and to discuss whether and how his concepts of health and disease can be applied to psychiatry.
Boorse has been a member of the UD faculty since 1971.
Article by Ann Manser
Photo courtesy of Christopher Boorse