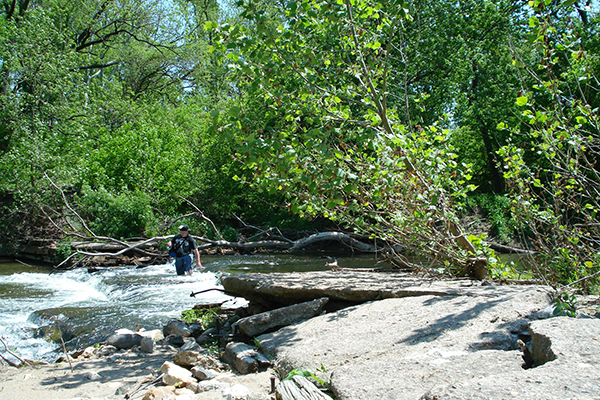 Dam removal
UD receives grant to restore habitat in White Clay Creek
9 a.m., Aug. 13, 2012--The White Clay Creek — a designated National Wild and Scenic River near Newark, Del. — will benefit from an $85,606 grant awarded to the University of Delaware through a national partnership between American Rivers and the National Oceanic and Atmospheric Administration.
American Rivers selected the White Clay Creek restoration project in Delaware as one of just six projects from more than 200 grant applications submitted nationwide. Projects in California, Delaware, Massachusetts, and Oregon will receive restoration grants. Delaware's project is titled "White Clay Creek Dam No. 1 Removal."
Chronic wounds
UD's Millicent Sullivan and Kristi Kiick have received a $1.4 million grant from the National Institutes of Health for research that could provide a new approach to the treatment of chronic wounds.
Prof. Heck's legacy
The American Chemical Society is highlighting the legacy of the late Nobel laureate Richard Heck, the Willis F. Harrington Professor Emeritus of Chemistry at the University of Delaware with a digital tribute on its publications website.
Removing White Clay Creek's Dam No. 1, a historic colonial mill timber-crib dam built around 1777 near present-day Delaware Park, will reopen 3.5 miles and 42 acres of spawning habitat along the waterway in New Castle County for passage of anadromous fish (American shad, hickory shad, and herring) for the first time in over two centuries. It will also improve public safety, as the dam is in disrepair and in danger of failing. 
As the first dam-removal project for fish passage in the state of Delaware, this is the first and most critical step in a five-year plan to remove an additional six upstream dams, which will reopen fish passage for 14 miles from tidewater inland to the Piedmont at the Delaware-Pennsylvania state line.
Principal investigator Gerald Kauffman, director of the Water Resources Agency, a unit of the School of Public Policy and Administration's Institute for Public Administration (IPA), will oversee research and field work during dam removal. 
The American Rivers grant will fund a multi-disciplinary UD research team, which includes internships for undergraduate and graduate students in IPA and the Center for Historic Architecture and Design, both of which are research centers in the School of Public Policy and Administration (College of Arts and Sciences), Department of Geologic Sciences (College of Earth, Ocean, and Environment), and Department of Civil and Environmental Engineering (College of Engineering).  
Key UD partners in this project include the U.S. National Park Service, White Clay Creek Wild and Scenic Watershed Management Committee, Delaware Division of Fish and Wildlife, and Delaware Park, Inc.
The White Clay Creek watershed is one of only a few unspoiled and ecologically functioning river systems in the metropolitan corridor between Philadelphia and Baltimore. About 180,000 people — about 20 percent of Delaware's population — receive drinking water from the watershed, which spans 107 square miles from southeast Pennsylvania to northwest Delaware. In 2000 it became first interstate watershed to be designated a National Wild and Scenic River and protected in its entirety. UD is one of just two universities in the U.S. that has a National Wild and Scenic River flowing though campus.
About American Rivers
Since 1973, American Rivers, the leading organization working to protect and restore the nation's rivers and streams, has fought to preserve these connections by helping protect and restore more than 150,000 miles of rivers through advocacy efforts, on-the-ground projects, and the annual release of the America's Most Endangered Rivers list.
Headquartered in Washington, D.C., American Rivers has offices across the country and more than 100,000 supporters, members, and volunteers nationwide.