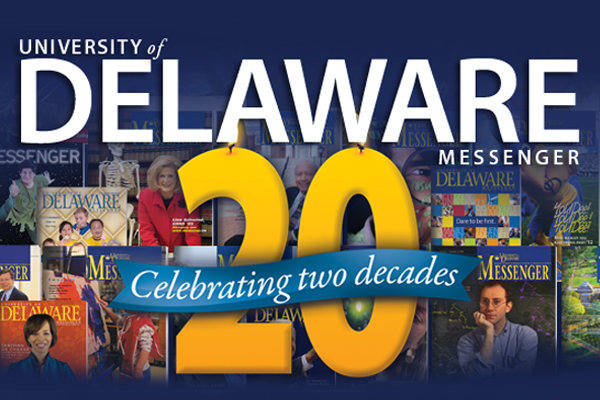 New 'Messenger'
August issue of University of Delaware Messenger magazine now available online
1:42 p.m., Aug. 9, 2012--The newest edition of the University of Delaware Messenger magazine, which is mailed to alumni, parents and friends, can be viewed online at this website, where an interactive PDF version also is available.
This issue marks a milestone of sorts, as the print magazine in its current form celebrates its 20th volume year. The UD Messenger, whose predecessors include the relatively recent Blue Hen Messenger and — beginning nearly a century ago — a publication called Alumni News, was first published during the 1991-92 academic year. 
From graduates, faculty
As it neared time for the processional to open the University of Delaware Commencement ceremonies, graduating students and faculty members shared their feelings about what the event means to them.
Doctoral hooding
It was a day of triumph, cheers and collective relief as more than 160 students from 21 nations participated in the University of Delaware's Doctoral Hooding Convocation held Friday morning on The Green.
The Messenger contains news from the campus, including articles about faculty and student research and athletics, as well as profiles of UD alumni and their remarkable personal and professional accomplishments.
The current issue features alumni who are helping to prepare Delaware for rising sea levels, who uncovered ancient copies of writings by Archimedes, who conducted scientific research in Antarctica and brought those experiences back to middle-school classrooms, who help lead the fight against AIDS in Africa and who oversee the exploits of superheroes as a Marvel Comics executive. Readers can also enjoy photos and stories from this year's Alumni Weekend and share in tailgating tips and recipes from alumna Debbie Ellingsworth, a culinary instructor and chef in UD's student-run restaurant.
A few other highlights of this Messenger are news about Raven Press, the art department's letterpress studio where students learn traditional printing techniques that showcase their creativity; special events marking the 50th anniversary of the School of Public Policy and Administration, founded as a national pioneer in addressing the problems of urban America; the widespread participation of UD students in community service projects; and plans for the development of the Science, Technology and Advanced Research (STAR) campus.
Blue Hens will also take note of a new feature from the Alumni Relations Office, "Where's YoUDee?" Readers can download an image of the University mascot from the Messenger website, or cut it out of the print edition of the magazine, and follow the instructions to photograph YoUDee in various locations and share those snapshots with fellow alumni.