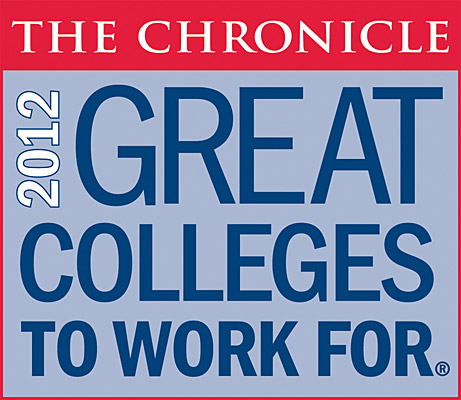 UD recognized
Chronicle selects University of Delaware as one of 'Great Colleges to Work For'
1:10 p.m., Aug. 7, 2012--The University of Delaware has been named one of the best colleges in the nation for which to work, according to the Chronicle of Higher Education's 2012 Great Colleges to Work For program.
UD was one of 103 colleges and universities recognized in the fifth annual survey of faculty and staff conducted by the journal.
From graduates, faculty
As it neared time for the processional to open the University of Delaware Commencement ceremonies, graduating students and faculty members shared their feelings about what the event means to them.
Doctoral hooding
It was a day of triumph, cheers and collective relief as more than 160 students from 21 nations participated in the University of Delaware's Doctoral Hooding Convocation held Friday morning on The Green.
UD was cited for its "Compensation and Benefits," marking the fourth straight year that the University has been cited in the category. The Chronicle noted that "an overhaul of compensation and benefits programs" resulted in a 7 percent reduction in health care premiums to employees and will save staff and the University a total of $2.7 million over a four-year period.
"The University of Delaware is a people-driven institution," said President Patrick Harker, who added that this understanding is an integral part of the University's approach to compensation and benefits. "To achieve our goals, we must attract talented individuals while also valuing the people currently working here."
The UD leadership team recently unveiled an updated compensation structure to that will enable the University to recruit and retain the best talent and advance other key strategic initiatives. It also re-bid contracts for supplemental benefits -- including dental, vision, life insurance and long-term disability -- which resulted in significant savings and additional options for employees.
This year's results are based on a survey of nearly 47,000 employees at 294 colleges and universities. Recognition in each Great College category was given to the 10 highest-scoring institutions in each size for four-year colleges, with UD joined in the "Compensation and Benefits" category for large institutions by Baylor University, Davenport University-Eastern Region, Drexel University, Rochester Institute of Technology, University at Buffalo, University of Michigan Ann Arbor, University of Southern California and Webster University.
Great Colleges to Work For is one of the largest and most respected workplace-recognition programs in the country. For more information and to view all the results of the survey, visit the Chronicle's website.