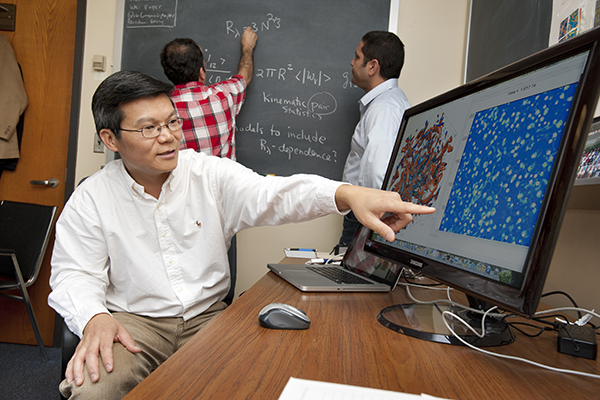 Geophysical turbulence
UD researchers contribute to workshop on environmental multiphase flows
2:02 p.m., Aug. 30, 2012--Cloud droplets are central to Earth's energy balance and to the water cycle, sea sprays play an important role in hurricane dynamics and air bubbles in the ocean's boundary layer alter the acoustical and optical properties of ocean water.
These examples of environmental multiphase turbulent flows represent an emerging research area that combines the complexities of turbulent flow, multiphase and multi-scale physics and environmental applications.
Chronic wounds
UD's Millicent Sullivan and Kristi Kiick have received a $1.4 million grant from the National Institutes of Health for research that could provide a new approach to the treatment of chronic wounds.
Prof. Heck's legacy
The American Chemical Society is highlighting the legacy of the late Nobel laureate Richard Heck, the Willis F. Harrington Professor Emeritus of Chemistry at the University of Delaware with a digital tribute on its publications website.
Eleven University of Delaware researchers contributed to a workshop designed to increase understanding of these and other multiphase turbulent flows in the atmosphere and ocean that was held at the National Center for Atmospheric Research (NCAR) in Boulder, Colo., Aug. 13-17.
Developed out of a one-day session previously held at UD, the workshop covered specific applications including cloud physics, air-sea interactions, hurricanes, dust storm and turbidity currents, processes that affect climate changes, weather prediction and water resources. It also included a full day devoted to multiscale computing of cloud physics needed to develop cloud physics parameterization for next-generation weather and climate models.
More than two dozen world-class researchers attended, including 11 researchers from Europe. 
Wojciech Grabowski, senior scientist from NCAR, and Lian-Ping Wang, professor of mechanical engineering at UD, were the primary event organizers. Support for the event came from NCAR's Geophysical Turbulence Program and a collaborative research project between the University and NCAR funded through the National Science Foundation's (NSF) Accelerating Discovery in Science and Engineering through Petascale Simulations and Analysis (PetaApps) program. 
The UD-NCAR collaboration focuses on developing tools and simulation models to couple large-eddy simulation of cloud dynamics and direct numerical simulation of cloud microphysics on upcoming petascale computers.
UD faculty involved in the program included:
Article by Karen B. Roberts
Photo by Evan Krape