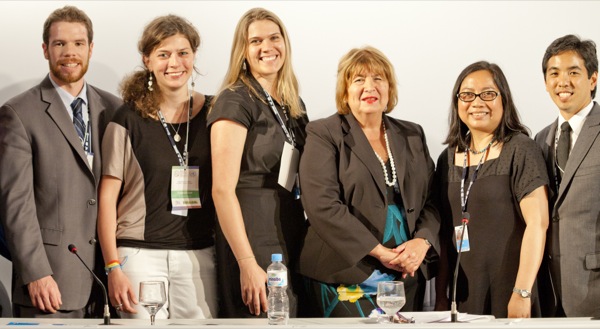 Rio+20 conference
UD marine policy researchers organize 'The Oceans Day' at global summit
10:52 a.m., Aug. 30, 2012--University of Delaware researchers participated in the Rio+20 global summit conference in June and organized "The Oceans Day" at the international event to chart next steps in global action on oceans. 
Biliana Cicin-Sain, professor of marine policy, and Miriam Balgos, Gwénaëlle Hamon, Joseph Appiott, C. Ryan Ono and Marisa Van Hoeven from UD's College of Earth, Ocean, and Environment joined more than 45,000 others from around the world for the United Nations Conference on Sustainable Development (UNCSD) in Rio de Janeiro, Brazil, from June 20-22.
Fulbright awards
Three University of Delaware students and an alumna have received word this spring that they will travel abroad as part of the newest class of Fulbright Student Program award winners.
Peace Corps plans
Two University of Delaware students, John McCarron and Bridgette Spritz, have been selected as Peace Corps volunteers and will serve in Ghana and Rwanda.
Also known as Rio+20, the conference marked the 20th anniversary of the historic 1992 United Nations Conference on Environment and Development, better known as the "Earth Summit," that was a turning point in how the world addressed the social, environmental and economic issues that related to human development, including in the ocean.
Twenty years after the Earth Summit, representatives from governmental, intergovernmental and non-governmental organizations gathered with the goals of assessing progress and gaps in implementation of past global agreements, reconsidering the international frameworks for sustainable development and developing the new paradigm of the "green economy." 
Led by Cicin-Sain, the Global Ocean Forum co-organized The Oceans Day at Rio+20 with 24 partners on June 16.
"Our goals were to reflect on what has and has not been done in relation to ocean commitments, to rekindle political will to address ocean issues, to showcase tangible pledges for action, and to consider the opportunities and challenges for implementation of the 'oceans package' emanating from Rio+20," Cicin-Sain said.
The full Oceans Day at Rio+20 program and list of partners can be found here.
The 375 participants from 46 countries participating in The Oceans Day included high-level officials from governments and representatives from U.N. agencies, international organizations, academic institutions and non-profit organizations. Speakers covered a range of topics focused on renewing political commitments, scaling up integrated governance, marine biodiversity, Small Island Developing States (SIDS) and oceans, climate change and ocean acidification, and the "blue economy" (applying green economy approaches to ocean and coastal industries and activities).
Notable speakers included Rachel Kyte, World Bank vice president, who announced a new global partnership on oceans, and Wang Hong, deputy administrator of the State Oceanic Administration of China, who noted major steps that China has been making to achieve a sustainable "blue economy."
The Oceans Day closed with a speech by Elizabeth Thompson of Barbados, executive coordinator for the Rio+20 Conference, in which she urged all individuals to push ocean stakeholders in government, the private sector and the general public to take strong measurable actions to create a more sustainable future for oceans, coasts and SIDS.
The Oceans Day co-chairs presented Thompson with the Rio+20 Ocean Declaration, which calls for the international community to:
take urgent action to scale up integrated ocean governance at national and regional levels and in areas beyond national jurisdiction;
implement climate, oceans and security measures (mitigation, adaptation, financing and capacity development);
mobilize financing and capacity development, especially for developing nations and SIDS; and 
improve the international framework/architecture on oceans. 
Many of the items in the Rio+20 Ocean Declaration were reflected in the Rio+20 Outcome document.
Article by Marisa Van Hoeven
Photo courtesy of Joel Sheakoski