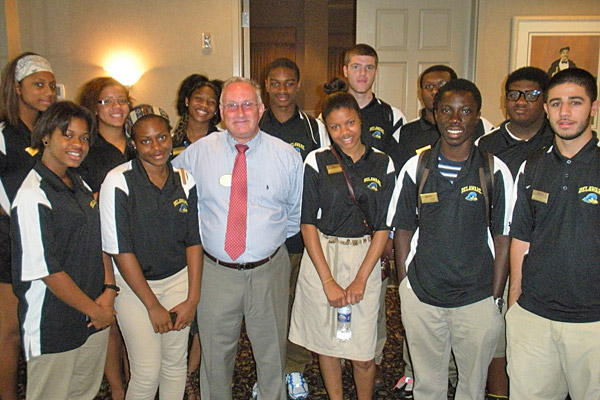 Higher heights
HRIM gives local high school students head start to success
9:29 a.m., Aug. 3, 2012--In an effort to introduce high school students to the fields of hospitality and tourism management and prep them for college majors in the field, the Department of Hotel, Restaurant and Institutional Management (HRIM) at the University of Delaware partnered with local high schools this summer to create a three-week college-level course, Introduction to Hospitality.
For 13 students from Glasgow High School (GHS), the course acted as an introduction to hospitality management and gave them knowledge about career opportunities and professional expectations in the industry.
From graduates, faculty
As it neared time for the processional to open the University of Delaware Commencement ceremonies, graduating students and faculty members shared their feelings about what the event means to them.
Doctoral hooding
It was a day of triumph, cheers and collective relief as more than 160 students from 21 nations participated in the University of Delaware's Doctoral Hooding Convocation held Friday morning on The Green.
Students got a first-hand look at the industry through tours of area hotels and centers like the Hotel du Pont, Deerfield Country Club, Delaware Park and the White Clay Creek Country Club. Students also discussed entrepreneurship with guest speakers like Bobby Pancake, a Buffalo Wild Wings franchisee and 2012 National Entrepreneurial Success Award winner.
"The students from GHS approached the summer session with dedication and commitment," said Francis Kwansa, interim chair of HRIM. "They showed up to class each day and were clearly transformed by the end of their brief college experience, which impressed us." 
Professional staff from the University also gave students an introduction to college life. Jennifer Laird, program coordinator in the Career Services Center, worked with students to help them prepare their first professional resume. From the Office of Admissions, Terry Whittaker, senior associate director, and Lukman Arsalan, assistant director, spoke with students about college applications and UD's Commitment to Delawareans.
"The students should feel great about what they accomplished," said Robert Nelson, professor of HRIM who taught during the special course. "This was an intense three-week program that involved up to four hours of lectures and tours daily followed by an hour break for lunch and an hour of group study."
A celebratory barbeque was held at Marriott's Courtyard Newark at the University of Delaware to recognize the GHS students' successful completion of the course. Faculty and staff from HRIM joined GHS students and administrators including Sherry Gross, principal; Krystal Greenfield, academy leader; Darin Knicely, academy leader; and Ed Mayfield, assistant to the superintendent for the Christina School District.
HRIM representatives said the department will continue to partner with local high schools, including GHS, Newark High School and William Penn High School, in an effort to raise awareness of hospitality management and promote the education of young students interested in investing in their futures.