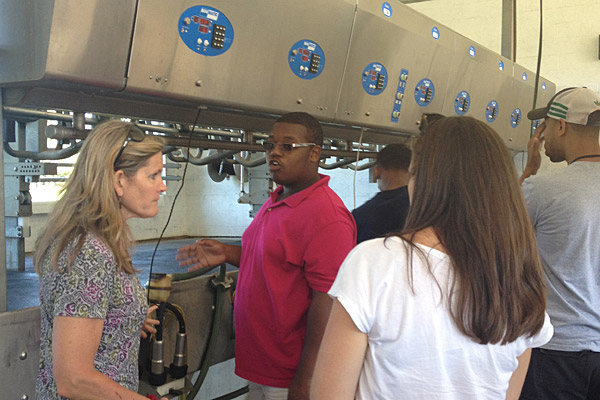 Native Delaware: Environmental explorers
Wilmington teens learn about environment via Green Jobs program
2:01 p.m., Aug. 6, 2012--On a recent sunny morning, two shimmering blue dragonflies darted by the mauve blooms of Joe Pye weed in a newly created wetland on University of Delaware's Newark Farm. It created the perfect teaching moment for Jenny McDermott, facilities and land manager for UD's College of Agriculture and Natural Resources, as she led a tour for teenagers participating in the city of Wilmington's Green Jobs program.
"When we put this wetland in, some people were concerned that we'd have more mosquitoes in the chicken houses nearby but we actually have less of a problem. Can anyone tell me why?" asked McDermott.
From graduates, faculty
As it neared time for the processional to open the University of Delaware Commencement ceremonies, graduating students and faculty members shared their feelings about what the event means to them.
Doctoral hooding
It was a day of triumph, cheers and collective relief as more than 160 students from 21 nations participated in the University of Delaware's Doctoral Hooding Convocation held Friday morning on The Green.
"Dragonflies eat mosquitoes," replied Elijah White, a 14-year-old who, in summer, lives with his mother in Wilmington and in Georgia during the school year. "We learned that from Mr. Jim White when we were at the DuPont Environmental Education Center."
The eating habits of dragonflies is just the start of what White and nine other youth are discovering about the environment during this summer's Green Jobs program. A partnership between the University of Delaware, the city of Wilmington and six other organizations, the six-week paid work experience exposes the students to a variety of environmental topics. 
The teens discovered where their drinking water comes from during a visit to the city's water treatment plant. They learned how to map GIS coordinates and the ways that scientists use geographic information systems at UD's Water Resources Agency, a program unit of the Institute for Public Administration in the School of Public Policy and Administration. They removed invasive plants from the Russell W. Peterson Urban Wildlife Refuge and found out why these species are harmful even if -- as one student noticed – they sometimes have attractive flowers and foliage. They toured UD's Hugh R. Sharp Campus in Lewes, where they kayaked and then splashed around in the water as they caught aquatic critters in seining nets.
"I loved the trip to Lewes; it was fun," said Jonathan Tucker, a 17-year-old rising junior at Newark High School whose mother encouraged him to apply for the Green Jobs program. A self-confessed "indoor guy," Tucker said he now has a better appreciation for the natural world around him. "Yeah, there's something to be said for nature," said Tucker. "I'm amazed at how much land there is at the Urban Wildlife Refuge, even though it's in the city." 
"I really like technology and want to work in the technology field," he added. "Now that I'm with Green Jobs, I've been thinking it would be cool to design hybrid cars that run on plant-based fuels." 
Regardless of whether Tucker works in the biofuels industry or ultimately chooses another career path, he is picking up useful job skills this summer, including public speaking and resume writing. 
"Although Green Jobs is centered on the environmental field, we want to help the students develop skills they will need to work as professionals in any career field," said Martha Corrozi Narvaez, associate policy scientist at UD's Water Resources Agency and the mastermind behind the Green Jobs program.
Several new features have been added to Green Jobs, which is now in its second year. "One thing I'm really excited about is that each participant has been paired with a mentor this summer," says Narvaez. "These experts will provide one-on-one guidance, training and insight into a variety of environmental careers. The hope is that many of these relationships are sustained so that if the teens have a career question next school year, they feel comfortable contacting their mentor by email or phone."
The teens also have a mentor in program counselor Adib Rushdan. A 2006 UD grad, Rushdan was employed in the medical technology field for several years before recently completing a stint in Wilmington city schools with AmeriCorps. He said that he plans to earn his teaching certification. "I'm enjoying my work with the Green Jobs students," said Rushdan. "They're a good group of kids. Green Jobs is a valuable program; it exposes teens to many different things outside of their normal experiences."
Such as a modern milking parlor – that's not an everyday experience for most American teens. The UD parlor was empty when McDermott and the students walked through it – it was close to 11 a.m.; way past milking time. McDermott explained that corn and alfalfa are grown on 120 acres of cropland to feed the farm's 100 dairy cows and that some of the milk is sold to a cooperative. "Chances are, if you drink milk and live in Delaware then you've had UD milk before," said McDermott.
As for what happens to the rest of the milk supply, the Green Jobs students discovered the tasty answer to that question on the last stop on the tour – at the UDairy Creamery, which produces premium ice cream from milk from UD's dairy cows.
Cherry vanilla? Chocolate marshmallow? Delaware River mud pie? Who knew that learning about the environment could be so sweet.
Article and photo by Margo McDonough