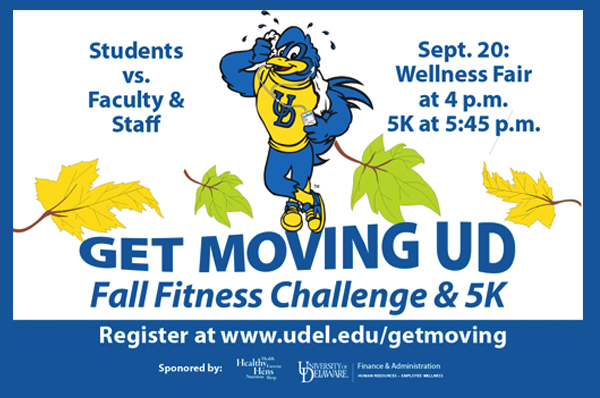 Physical activity challenge
'Get Moving UD' registration open for faculty and staff
11:01 a.m., Aug. 22, 2012--University of Delaware faculty and staff are invited to register now for "Get Moving UD," an eight-week physical activity challenge that will run from Sept. 23-Nov. 17.
The cost is 30 Wellness Dollars, which includes free registration to a 5-kilometer fun run and walk, a performance T-shirt, a personal activity log, weekly e-newsletters and several group fitness activities. 
June 6: UDid It! Picnic
All UD faculty and staff members are invited to attend the annual UDid It! employee appreciation picnic, set from 11 a.m.-1:30 p.m., Monday, June 6, on The Green.
2FA protects you
If you are using two-factor authentication (2FA), even if a hacker has your password, your information is probably safe.
The program is co-sponsored by the Office of Human Resources' Employee Wellness unit and Student Health Services' Healthy Hens program.
During the challenge, students will compete against faculty and staff to see which group can accumulate the most physical activity minutes.
"We are social creatures and recent research shows that our health behaviors are no exception to this rule," says Linda Smith, program coordinator for HealthyU Employee Wellness. "People who surround themselves with friends, co-workers or family members who can encourage them are more successful in reaching their fitness goals."
The fall challenge will kick off with two events on Thursday, Sept. 20, on The Green at Delaware Avenue.
• A Get Moving wellness fair will be held from 4-7 p.m. and will feature representatives from campus and community organizations that promote healthy living.
• The 5K fun run and walk will begin at 5:45 p.m., starting from the corner of Academy Street and Delaware Avenue and following a newly certified course that winds through east campus and finishes on The Green.
These kickoff events are also open to community members, so faculty and staff are encouraged to invite their friends and family members to participate.
To learn more about the program and to register, visit the Get Moving website or call 831-8388.