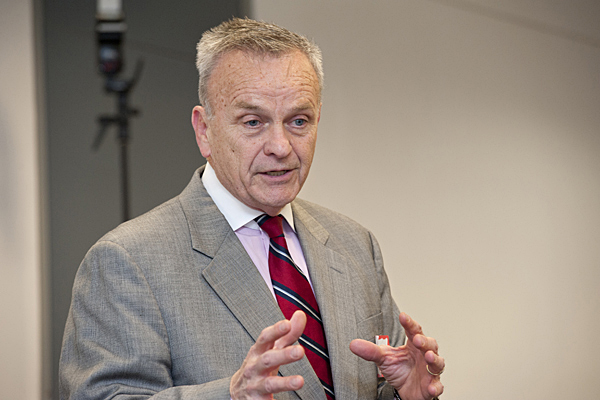 Improving economic education
Instructors enhance education through CEEE master's program
10:58 a.m., Aug. 17, 2012--The Center for Economic Education and Entrepreneurship (CEEE) in the University of Delaware's Alfred Lerner College of Business and Economics continued to promote greater opportunity for interdisciplinary work, as 24 educators completed the second four-week session of a unique master's program this summer.
Educators working to earn a master's degree in economics and entrepreneurship for educators (MAEEE) completed online lectures and assignments before arriving on the University's Newark campus to complete the summer session, which explored the development of economic education, financial education and entrepreneurship programs around the world.
From graduates, faculty
As it neared time for the processional to open the University of Delaware Commencement ceremonies, graduating students and faculty members shared their feelings about what the event means to them.
Doctoral hooding
It was a day of triumph, cheers and collective relief as more than 160 students from 21 nations participated in the University of Delaware's Doctoral Hooding Convocation held Friday morning on The Green.
Unique to this year's MAEEE class, the educators were the first in the history of the program, which started in 1981, to engage in online instruction.
James O'Neill, professor of economics and director of the CEEE, said the program is designed to strengthen the economic, entrepreneurial and financial content of instruction at the primary and secondary school level.
"One of the primary purposes of the MAEEE is to establish a network of educators who can help instruct teachers in effective methods of teaching," said O'Neill.
According to O'Neill the philosophy of the program revolves around the idea that one highly motivated and skilled individual can have a positive influence on many others.
During the program, educators had an opportunity to meet with a variety of intellectuals including JPMorgan Chase executives and Federal Reserve representatives. UD professors also exposed the educators to complex issues and a breadth of information on the logistics of economic theory.
James Buchanan, who teaches basic economics and personal finance at Collier High School in Wickatunk, N.J., said he was never formally trained or enlightened from an intellectual standpoint in the art of economics until he joined the program.
"The MAEEE educators program has answered many of those questions that I have had over the years," said Buchanan. "Dr. O'Neill had every aspect of the economic equation covered so that our experience was comprehensive."
Buchanan added he was honored to include O'Neill on his list of favorite economic influences.
Bonnie Kelly, who teaches Advanced Placement (AP) government courses at Fairfax (Va.) High School, said in last year's summer session that there was a lot of talk about what educators teach and how they teach it, and she noted it was helpful to have a program tailored to teachers that gave them the chance to work with each other.
Carrie J. McIndoe, president and CEO of Economic Ventures, Inc., who presented to the group during the summer, emphasized the importance of spreading youth entrepreneurship programs nationwide and how the MAEEE program helps that cause.
The CEEE collaborates with the Council for Economic Education in order to promote economic literacy in students and their teachers by establishing a network of educators who can assist teachers in effective methods of teaching economics and entrepreneurship in elementary and secondary schools.
A reception was held on Thursday, Aug. 2, to honor the MAEEE Class of 2013 and celebrate the completion of the second summer session.
Article by Rachel Howard
Photo by Evan Krape