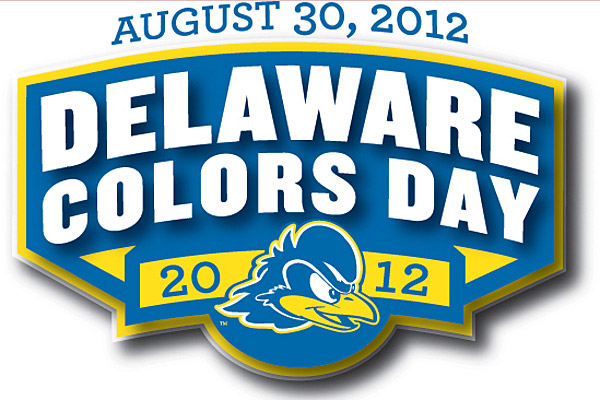 Aug. 30: Delaware Colors Day
Hens can purchase blue and gold apparel to mark Delaware Colors Day
3:51 p.m., Aug. 2, 2012--Blue Hens fans are encouraged to purchase blue and gold apparel from the University of Delaware Bookstore to celebrate Delaware Colors Day on Thursday, Aug. 30.
The event is part of the national College Colors Day presented by the Collegiate Licensing Company (CLC) to kick off the fall sports season.
See the Delaware Colors Day video.
From graduates, faculty
As it neared time for the processional to open the University of Delaware Commencement ceremonies, graduating students and faculty members shared their feelings about what the event means to them.
Doctoral hooding
It was a day of triumph, cheers and collective relief as more than 160 students from 21 nations participated in the University of Delaware's Doctoral Hooding Convocation held Friday morning on The Green.
Delaware Colors Day is being held as the Blue Hens football team opens the 2012 season, hosting West Chester University in a game under the lights at Delaware Stadium on Aug. 30. Game time for the season opener is 7:30 p.m.
Also, the University Bookstore is participating by offering a College Colors Day special in the cafe. On Thursday, Aug. 30, and on Friday, Aug. 31, anyone who wears UD's blue and gold into the cafe will receive a venti iced coffee or tea for $1.
As part of Delaware Colors Day, UD is participating in the inaugural "Pledge Your Allegiance for College Colors Day" spirit competition and is seeking fan support through online balloting to help win the College Colors Spirit Cup and $10,000 toward the general scholarship fund.
Blue Hens fans can visit the ESPN College Colors Day website to register to pledge their allegiance to UD. All registrants are entered to win prizes.
The website-based rivalry competition, which includes 165 participating colleges and universities and is an element of this year's 2012 College Colors Day celebration, is live now and will run through the entire month leading up to College Colors Day on Aug. 31. Throughout the competition, standings will be tracked nationally, as well as by conference. 
College Colors Day is an annual celebration dedicated to promoting the traditions and spirit that embody the college experience by encouraging fans across America to wear their favorite college or university apparel.
The West Chester clash is one of seven home games this season, with UD hosting Delaware State University on Sept. 8, Bucknell University on Sept. 15, the University of Maine on Oct. 6, the University of Rhode Island on Oct. 20, Towson University on Nov. 3 and Villanova University on Nov. 17.