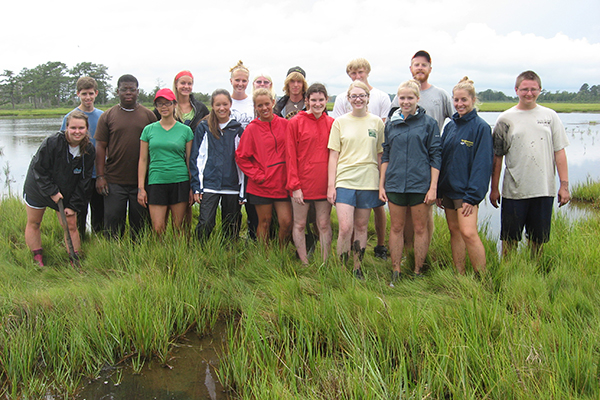 TIDE Camp
High school students experience marine science at a two-week summer camp at UD
9:07 a.m., Aug. 23, 2012--Summer is the perfect time to watch the waves roll in at the beach – or at a 137-footlong research tank with slow-motion video replay.
High school students had the opportunity to do both recently as part of TIDE Camp, a two-week overnight program at the University of Delaware exploring the scientific processes at work along the coast.
'Resilience Engineering'
The University of Delaware's Nii Attoh-Okine recently published a new book with Cambridge University Press, "Resilience Engineering: Models and Analysis."
Reviresco June run
UD ROTC cadets will run from New York City to Miami this month to raise awareness about veterans' affairs.
"It's really cool," said rising 12th grader Rachel Owrutsky about the Air-Sea Interaction Laboratory in Lewes. "We measured the waves' frequency and speed."
Owrutsky and her fellow campers found new perspectives on marine science as they visited facilities within the College of Earth, Ocean, and Environment (CEOE), took field excursions and participated in workshops with faculty.
TIDE, which stands for Taking Interest in Delaware's Estuary, is an academic learning experience for 10th through 12th graders that focuses on topics such as climate change, ocean chemistry, estuaries, tides and offshore wind power. The program is coordinated by CEOE Assistant Dean Franklin Newton and Dana Veron, assistant professor of physical ocean science and engineering.
"TIDE Camp offers participants the opportunity to experience different aspects of marine science and get a realistic sense of what our scientists and students do," Newton said. "The hands-on nature of the camp allows students to dive right in and apply what they are learning in a real world context — all while having a great time."
The students spent July 22-27 at the main campus in Newark, staying overnight in the residence halls, and then traveled to Lewes the following week and resided at the Virden Center conference facility.
Camp started off with introductory sessions about the oceans and underwater exploration. The students then learned about remotely operated vehicles (ROVs), torpedo-shaped equipment used to investigate subsurface waters and the sea floor.
By the end of the first week, the students were given the basic components of a makeshift ROV – PVC pipe, propellers, motors and underwater cameras – to construct their own for testing in the University's indoor pool.
Margaret Daly, a high school senior from Reading, Pa., said her group was able to retrieve three pingpong balls from the pool with their ROV in the test. Daly said she is considering UD for college and applied to TIDE camp to explore her interest in physical oceanography and engineering.
"I really enjoyed building the ROVs," Daly said. "I like building things."
Other students, such as Stephen Wagner, liked being outdoors and meeting other students with similar interests. Together the group toured research ships, explored the sand dunes at Cape Henlopen State Park, seined for fish and other aquatic creatures at the fishing pier and conducted a canoe cleanup at Abbott's Mill Pond in Milford.
"I enjoyed the things like canoeing, the marsh walk – things that you go out in the field to do," Wagner said.
While the focus of much of the camp was academic, campers also had time for fun. They sampled ice cream at the UDairy Creamery, swam at UD's outdoor pool, took a behind-the-scenes tour of the Baltimore Aquarium and went to a Wilmington Blue Rocks baseball game. They also took an evening kayak tour and spent a leisurely afternoon at the beach in Lewes.
"I thought it was a really great camp," Daly said.
TIDE is supplemented and sponsored by Delaware Sea Grant.
Article by Teresa Messmore
Photo by Doug Miller