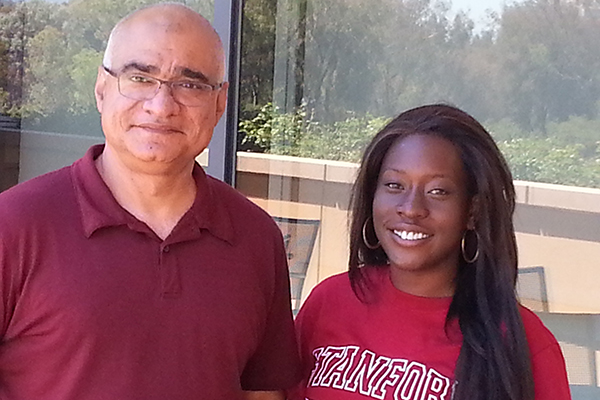 Supporting student research
Campbell presents research at annual conference for minority scholars
10:49 a.m., Aug. 15, 2012--University of Delaware senior Shantel Campbell presented her research on the affect of scarcity of time and resources on buyer behavior at the Leadership Alliance National Symposium (LANS) at the Hartford Marriott Downtown in Hartford, Conn., earlier this summer. 
LANS, which has supported research, scholarship and academic excellence among young minority scholars for two decades, gave students from notable institutions like Harvard, Princeton and Yale the opportunity to present research on a wide range of topics from biology to Japanese literature. 
Chronic wounds
UD's Millicent Sullivan and Kristi Kiick have received a $1.4 million grant from the National Institutes of Health for research that could provide a new approach to the treatment of chronic wounds.
Prof. Heck's legacy
The American Chemical Society is highlighting the legacy of the late Nobel laureate Richard Heck, the Willis F. Harrington Professor Emeritus of Chemistry at the University of Delaware with a digital tribute on its publications website.
Campbell, an Honors Program student in mass communication with a minor in advertising, began her student research after expressing interest in the McNair Scholars Program at UD.
The McNair Scholars Program helps prepare undergraduate students interested in doctoral studies through involvement in research and other scholarly activities. 
Faculty in the McNair Scholars program encouraged Campbell to apply to the Leadership Alliance Summer Research Early Identification Program (SR-EIP). On that faculty advice, Campbell applied and was selected to join the program with Stanford University, a participating Alliance institution.
With the guidance of Michal Herzenstein, assistant professor of business administration in the Alfred Lerner College of Business and Economics, Campbell was introduced to Baba Shiv, professor of marketing at Stanford, who mentored Campbell throughout the research program. 
Shiv, a leading academic researcher in decision making and neuroscience, noted he "became interested in researching how scarcity affects consumers after watching 'Living under Scarcity,' a TedTalk by Eldar Shariff."
Campbell worked with Shiv to study the differences between responses to scarcity of money versus scarcity of time by designing an online research survey with several scenarios that tackled marketing concepts like mental accounting and variety seeking.
The research study evaluated how consumers will take fewer risks if they lack time or money. As a result consumers adapt to a familiar product, which affects what consumers buy. 
"What is familiar may not always be an optimal choice," Campbell explained.
According to the research duo, the results showed there was a direct effect on how likely people are to choose a familiar option when they feel a sense of scarcity versus when they do not feel a sense of scarcity as it relates to money or time.
Campbell presented this research at LANS, which gave her the opportunity to meet a number of administrators from participating institutions; attend skill-building and professional development sessions; and gain advice about graduate program decisions.
"I plan to attend graduate school to obtain my Ph.D,." said Campbell. "I am very interested in attending Stanford and this research experience helped me to be a more competitive student." 
Campbell added that the conference gave her a taste of what graduate school has to offer.
"I was able to learn what it's like to work with a mentor and to do extensive background research on my topic," said Campbell. "I also learned the process of actually executing a research project and, finally, presenting that project in a way that those outside my field can understand."
And Campbell's participation at LANS truly paid off.
"Shantel told me she was accepted to the Leadership Alliance summer research program at Stanford," said Herzenstein. "This is truly a big achievement and I am very proud of Shantel."
Article by Rachel Howard