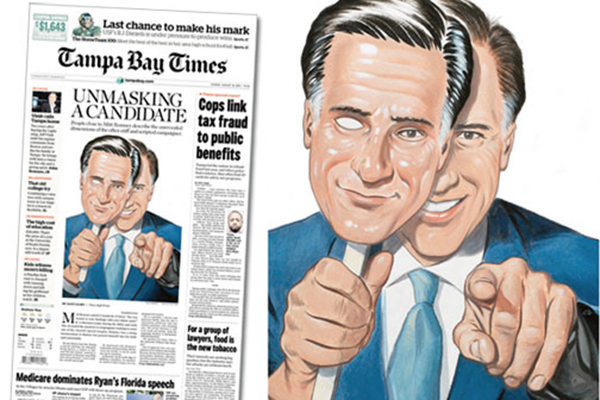 Political art
Newspaper solicits UD art professor to 'unmask' Mitt Romney
10 a.m., Aug. 23, 2012--How does The Tampa Bay Times illustrate a profile of the candidate it describes as the "devout and generous family man," the "calculating politician who has shifted positions with blinding ease" and the Republican presidential nominee whose "flip-flops would become legend"?
Not with an Etch-a-Sketch, if David Brinley's at the drawing board.
'Resilience Engineering'
The University of Delaware's Nii Attoh-Okine recently published a new book with Cambridge University Press, "Resilience Engineering: Models and Analysis."
Reviresco June run
UD ROTC cadets will run from New York City to Miami this month to raise awareness about veterans' affairs.
The University of Delaware assistant art professor, who was commissioned earlier this month by the newspaper to create an image that illustrated "the two sides of Mitt Romney," instead chose to use a symbol often found at political conventions and demonstrations — a mask.
"I sketched a few different things, but I really liked the idea of a cut-out mask," he says, "especially with the Republican National Convention," which is scheduled to begin Monday, Aug. 27, at the Tampa Bay Times Forum.
The corresponding article, which ran on the front page of last Sunday's newspaper, seeks to answer "Who is the authentic Mitt Romney?" 
Brinley, who spent about two days working on the image, is glad to have contributed to the political discourse.
"I've been reading some of the chatter in the blogs and online comments," he says. "It's pretty interesting to read the reactions."
Article by Artika Rangan Casini
Image courtesy David Brinley