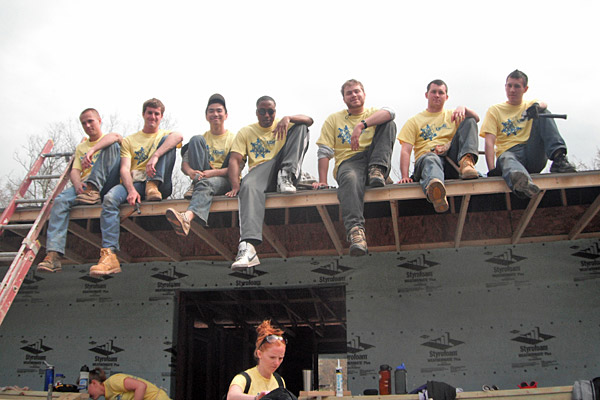 UDaB information sessions
UD Alternative Breaks wins award, announces information sessions
11:22 a.m., Aug. 31, 2012--University of Delaware Alternative Breaks (UDaB), the University's spring break program founded in 2010, has been awarded honorable mention for program of the by a national organization for college alternative break programs.
Break Away, a non-profit group that works with more than 150 schools around the country, accepts applications annually for program of the year, the highest honor they grant to a school in their network. UDaB received honorable mention in this category, with UD being the only institution to receive recognition besides the winning university.
From graduates, faculty
As it neared time for the processional to open the University of Delaware Commencement ceremonies, graduating students and faculty members shared their feelings about what the event means to them.
Doctoral hooding
It was a day of triumph, cheers and collective relief as more than 160 students from 21 nations participated in the University of Delaware's Doctoral Hooding Convocation held Friday morning on The Green.
This honor comes after just two years of being an official program. The program piloted its first series of spring break trips in 2011, sending out five trips to communities in need from New Orleans to Newark, N.J.
Since the pilot year, the group has developed an executive board, written a constitution, and sent more than 200 students on spring break trips.
"I am continuously amazed by the incredible success our program has seen in the past two years," said senior Lauren Pitruzzello, coordinator for the program. "This recognition has given our group even more momentum to continue building our program and sending out meaningful and engaging spring break trips."
The program, housed in the Office of Service Learning, is administered by Susan Serra. It will be running five service trips during spring break 2013, and site locations for these trips will be announced soon.
Students interested in going on an alternative break trip next spring are encouraged to attend one of the following information sessions: 
Thursday, Sept. 13, at 5:30 p.m., 100 Sharp Lab.
Tuesday, Sept. 18, at 7 p.m., 100 Sharp Lab.
Wednesday, Sept. 26, at 8 p.m., 217 Gore Hall.
Monday, Oct. 1, at 5:30 p.m., 100 Sharp Lab.
Applications for the 2013 spring break will open on Sept. 17 and close on Oct. 4. Students will then participate in group and one-on-one interviews before being selected to participate.
More information can be found on UDaB's website, and questions can be forwarded to the program's email address at udab-info@udel.edu. 
Those interested in alternative breaks can also connect with UDaB by liking the Facebook page or following it on Twitter.