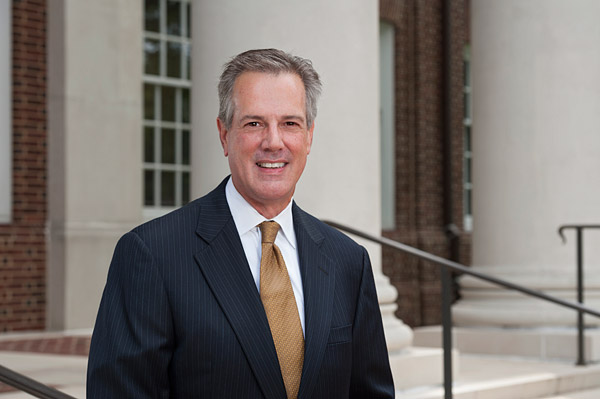 New vice president
Jeffrey Garland named vice president and University secretary at UD
9:01 a.m., Aug. 2, 2012--Jeffrey W. Garland of Wilmington, a business development executive with Fisker Automotive and a former adviser to top Delaware office-holders, will join the University of Delaware as vice president and University secretary, UD President Patrick T. Harker announced today.  His appointment is effective Aug. 6.
"Jeff Garland brings an excellent blend of talents to this position," Harker said. "His record of leadership in both private industry and government gives him a valuable perspective that will inform his work with the Board of Trustees and our campus leadership."
'Resilience Engineering'
The University of Delaware's Nii Attoh-Okine recently published a new book with Cambridge University Press, "Resilience Engineering: Models and Analysis."
Reviresco June run
UD ROTC cadets will run from New York City to Miami this month to raise awareness about veterans' affairs.
A. Gilchrist Sparks, chairman of the University's Board of Trustees, said, "We're pleased to welcome Jeff Garland to the University. He has extensive experience in top management, along with an impressive record of leadership and partnership building. I look forward to his support to our board."  
"Pat Harker, Gil Sparks and the Board of Trustees are providing vision and leadership that will guide UD for decades to come," Garland said. "I am looking forward to being a member of their strong and dynamic team."
Garland succeeds Pierre D. Hayward, who retired June 1. 
A member of the president's senior administrative team, the vice president and University secretary provides administrative support for the Board of Trustees and its chairman and oversees the University's commencement and convocation ceremonies. The vice president also oversees the University's records management and archives operation. 
Jeffrey W. Garland
Since 2010, Garland has served as senior leader for partnership and business development with Fisker Automotive, where his responsibilities have included initiating and managing business, government and community partnerships, including with elected officials at all levels and a variety of business entities.  
Garland was senior vice president for enterprise affinity marketing at Bank of America from 2006-09. He implemented marketing strategies for core banking products, including checking, debit, savings, home equity loans and auto loans and business banking. 
From 1993-2006, he was affiliated with MBNA America Bank, serving as executive vice president and director of American Express product sales and marketing. There he developed the bank's business partnership with American Express, establishing MBNA as the first bank in the U.S. to offer American Express cards. He also managed the strategic plan, business development team and national marketing theme, "Everyday Life Has Its Own Rewards."
Garland was state director and assistant to U.S. Sen. William V. Roth Jr., from 1989-93, serving as senior policy adviser and statewide spokesperson across a range of issues. 
From 1987-89, he was special assistant to Delaware Gov. Michael N. Castle and created the statewide drug abuse prevention program, "Above the Influence." 
Garland was special assistant to Tennessee Gov. Lamar Alexander from 1985-87, directing public relations, advertising and experiential marketing programs.
A graduate of Duke University, Garland is a board member of the Delaware National Guard Foundation and a member of the Greater Philadelphia Senior Executive Group. 
Photo by Evan Krape