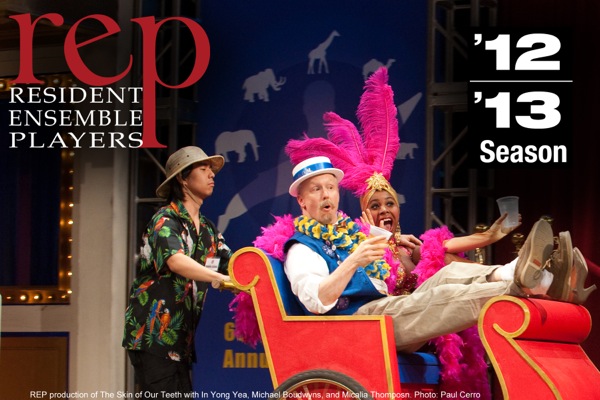 Curtain up
Resident Ensemble Players announces 2012-13 season
4:33 p.m., Aug. 17, 2012--From classics to the cutting-edge, the University of Delaware's Resident Ensemble Players (REP) has announced its 2012-13 theatre season, full of ghosts, madmen, wild women and song.
The REP will present The Weir by Conor McPherson, Anything to Declare by Maurice Hennequin and Peirre Veber, The Threepenny Opera with book and lyrics by Bertolt Brecht and music by Kurt Weill, Hamlet by William Shakespeare and Fever, a world premiere written specifically for the REP company by Theresa Rebeck.
From graduates, faculty
As it neared time for the processional to open the University of Delaware Commencement ceremonies, graduating students and faculty members shared their feelings about what the event means to them.
Doctoral hooding
It was a day of triumph, cheers and collective relief as more than 160 students from 21 nations participated in the University of Delaware's Doctoral Hooding Convocation held Friday morning on The Green.
Subscriptions and single tickets can be purchased by contacting the REP box office at 302-831-2204, cfa-boxoffice@udel.edu or www.rep.udel.edu.
"I am enormously excited about our upcoming season and the wide variety of contrasting styles, genres and moods that we are presenting," saie Sanford Robbins, production artistic director of the REP. "These productions give our audiences the opportunity to see some of the world's great stories on stage while watching the extraordinary REP acting company dazzle with their range and virtuosity. And I'm thrilled we once again will produce the world premiere of a play by one of America's most exciting playwrights. It is a huge honor to have Theresa Rebeck make time in her busy schedule in Hollywood and New York to write another production just for the REP."
The Weir
Conor McPherson's The Weir opens the season with an eerie tale of ghosts, hauntings and brilliant Irish storytelling. On a dark, desolate night in a small country pub, a few mates gather for pints and a tale or two. When a pretty stranger from Dublin joins them, the lads weave spooky yarns to compete for her attention. When the stranger joins the storytelling, her tale becomes the most eerie and unnerving of all. The Weir plays Sept. 27 through Oct. 14.
Anything to Declare
Next up is the wildly hilarious French farce, Anything to Declare by Maurice Hennequin and Pierre Veber. New bride Paulette Dupont and her husband return from their honeymoon in desperation; because of an ill-timed interruption from a customs inspector, her husband was unable to rise to the occasion and the marriage has yet to be consummated. A grandchild-demanding mother-in-law, a philandering father-in-law and an array of wacky characters create a bawdy whirlwind of innuendo and raucous confusion. It is scheduled from Nov. 15 to Dec. 9.
The Threepenny Opera
Music and mayhem usher in The Threepenny Opera, Bertolt Brecht and Kurt Weill's look at the seamy side of beggars, businessmen and ladies of the evening. Featuring some of the great songs in musical theatre, including "Mack the Knife" and "Pirate Jenny," Threepenny uses the underworld of thieves and murderers to ask the timely question: "Who can be the bigger criminal, the man who robs a bank or the man who establishes one?" Regional theatre director Matthew Earnest guest-directs this production, scheduled Jan. 17 through Feb. 2.
Hamlet
Tony-nominated and internationally acclaimed director Mark Lamos stages Hamlet, Shakespeare's classic tale of murder, melancholy and madness. Hamlet, prince of Denmark, is in suspicious mourning over the death of his father and his mother's hasty remarriage. When his father's ghost materializes to point a finger at the guilty parties, Hamlet carries out a plan that uncovers the deception and will have devastating consequences for the entire kingdom. The production will run from February 28 through March 17.
Fever
Finishing the season, playwright Theresa Rebeck is back at the REP with a world premiere written specifically for the REP company. Creator of the NBC drama Smash and writer of the REP's acclaimed O Beautiful and the forthcoming Broadway production of Dead Accounts, Ms. Rebeck returns to Delaware to light a match under the powder keg of modern-day gender politics. Friends Molly and Arthur unintentionally start an uproarious ruckus over a story that is miscommunicated, misinterpreted and mangled into a hilarious and pointed battle between the sexes.  Fever will be staged from April 18 through May 4.
About the REP
The REP, established in 2008, is Delaware's resident professional acting company and the professional component of the University of Delaware's nationally acclaimed graduate conservatory, the Professional Theatre Training Program (PTTP). 
Subscription information
The REP is committed to keeping professional theatre reasonably priced and offers a variety of subscription packages for audiences to enjoy the entire season, starting at just $20 a ticket. Subscribers enjoy significant savings on tickets, the best choice of seats and a liberal ticket exchange policy. Discounts are available for students, seniors and UD faculty and staff. Group discounts are available for groups of 10 or more.
A complete schedule, directions and information on purchasing tickets can be found at www.rep.udel.edu or by calling the REP's box office from noon-5 p.m., Mondays through Fridays, at 302-831-2204.