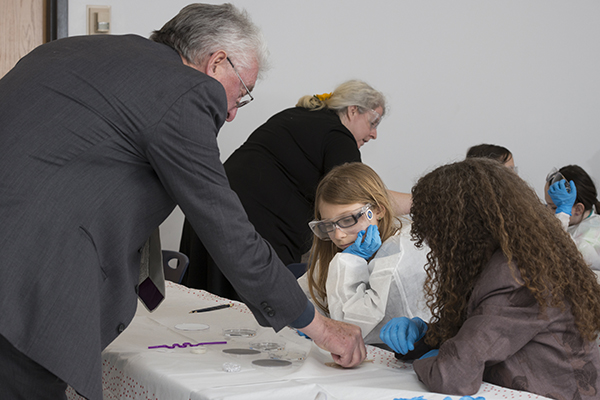 Kids' Greenfest
UD's Wool to speak at Newark Center for Creative Learning's Kids' Greenfest
11:34 a.m., April 15, 2013--The University of Delaware's Richard Wool will share the wonders of green engineering as a guest speaker at the Newark Center for Creative Learning's fourth annual Kids' Greenfest to be held from 10 a.m.-3 p.m., Saturday, April 20.
Kid's Greenfest is an event that invites students in kindergarten through 8th grade to embrace a greener future through exposure to hands-on green activities focused on green technology, energy alternatives, wildlife, food and conservation. Exhibits presented by kids and sustainability experts will share practical, easy methods for change.
'Resilience Engineering'
The University of Delaware's Nii Attoh-Okine recently published a new book with Cambridge University Press, "Resilience Engineering: Models and Analysis."
Reviresco June run
UD ROTC cadets will run from New York City to Miami this month to raise awareness about veterans' affairs.
Wool is a UD professor of chemical and biomolecular engineering known for his focus on green chemistry, particularly the study of bio-based materials — materials derived from renewable resources — including soybeans, natural fibers and chicken feathers. In his talk, he plans to reveal the "secret to career success" for parents and future minds.
"Stimulating in kids a passion for green chemistry and engineering issues is good for both human health and for the environment. It may also inspire their future careers," explained Wool, who recently taught local Girl Scouts how to clean up oil spills using chicken feathers.
U.S. Sen. Chris Coons and Ray Bivens of the Delaware Department of Natural Resources and Environmental Control are among the event's other guest speakers.
Other Kid's Greenfest activities include a green footprint scavenger hunt, face painting, book swap, recycled art projects, a bike rodeo and a seed planting station. 
Article by Sarah E. Meadows
Photo by Kathy F. Atkinson