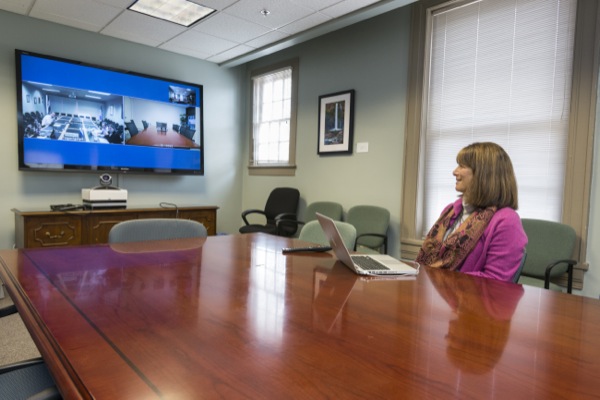 Global communications
Video conferencing technology available to UD community
6:33 p.m., April 2, 2013--The Institute for Global Studies (IGS), located in Elliott Hall, is pleased to offer new video conferencing technology as a resource to assist UD faculty and staff with University-related international communications. The new equipment is available to all faculty with international partnerships. 
The new Polycom system projects high-definition images and can be used for video and telephone conferencing. Images are displayed on an 80-inch flat-screen monitor, and audio transmissions are presented in full stereo. A bridge capability supports video conferencing for up to four connections. Computers also can be connected to the system for presentations. 
Fulbright awards
Three University of Delaware students and an alumna have received word this spring that they will travel abroad as part of the newest class of Fulbright Student Program award winners.
Peace Corps plans
Two University of Delaware students, John McCarron and Bridgette Spritz, have been selected as Peace Corps volunteers and will serve in Ghana and Rwanda.
 "The Institute for Global Studies is pleased to provide this resource to the University community," said Nancy Guerra, associate provost for international programs and IGS director. "We hope this technology will facilitate current collaborations and foster future international partnerships."
To reserve the conference room and Polycom system, please contact the Institute for Global Studies at 302-831-2852 or by email at studyabroad@udel.edu.
Article by Elizabeth Adams
Photo by Evan Krape