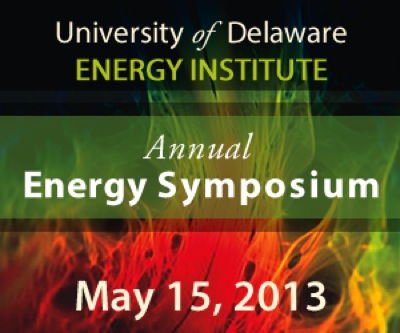 Energy symposium
UD Energy Institute annual symposium set for May 15
9:59 a.m., April 12, 2013--The University of Delaware Energy Institute (UDEI) will hold its annual symposium Wednesday, May 15, in Clayton Hall. 
The event, scheduled to begin at 8 a.m., will showcase UD's energy-related research efforts while providing a forum for researchers from industry, government and academia to interact and collaborate. 
Chronic wounds
UD's Millicent Sullivan and Kristi Kiick have received a $1.4 million grant from the National Institutes of Health for research that could provide a new approach to the treatment of chronic wounds.
Prof. Heck's legacy
The American Chemical Society is highlighting the legacy of the late Nobel laureate Richard Heck, the Willis F. Harrington Professor Emeritus of Chemistry at the University of Delaware with a digital tribute on its publications website.
Register online to attend this event here. 
The morning session will feature breakfast and a welcome statement by Charlie Riordan, vice provost for research, followed by distinguished speakers from seven research centers on campus.
Among the topics to be covered are catalysis, carbon free power and energy and environmental policy, among others.
Matthew Doty, assistant professor of materials science and engineering, will deliver an invited presentation on "Next Generation Photon Energy Harvesting" during lunch, followed by an interactive poster session and closed workshop in the afternoon.
For questions, contact Marguerite Mahoney at the UD Energy Institute.
Article by Gregory Holt