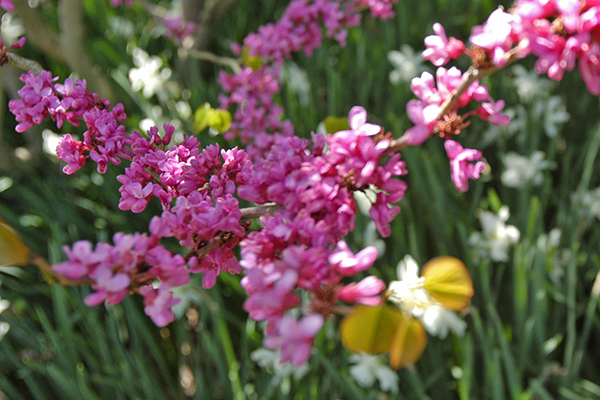 Native Delaware: Blooms
Bloom season kicks into high gear for garden enthusiasts
8:34 a.m., April 10, 2013--In April, bloom season kicks into high gear in Delaware. In fact, it might be the single best month to get outside and enjoy the views at the area's world-class gardens.
At Winterthur, the Winterhazel Walk will soon be the star of the show, reports Linda Eirhart, assistant director of horticulture for the museum, which features a 60-acre naturalistic garden in the midst of nearly 1,000 acres of land.
From graduates, faculty
As it neared time for the processional to open the University of Delaware Commencement ceremonies, graduating students and faculty members shared their feelings about what the event means to them.
Doctoral hooding
It was a day of triumph, cheers and collective relief as more than 160 students from 21 nations participated in the University of Delaware's Doctoral Hooding Convocation held Friday morning on The Green.
"The cold weather has held things back but before long the Winterhazel Walk will dazzle with its combination of soft yellow winter hazel and the warm lavender of Korean rhododendron. This is under planted with hellebores, which are still going strong," she says.
These species are non-native but many of Winterthur's native plants will soon be in bloom, too. Bloodroot is a sweet little perennial with pure white, cup-shaped flowers. You can find it in Azalea Woods and other wooded areas and thickets throughout the property. 
Spring beauty is another little charmer, sporting white petals with stripes that vary from pale pink to bright pink. Like bloodroot, it grows in woodlands. Pay attention to weather conditions during your visit to Winterthur. If it's warm and sunny, spring beauty will open its petals but on a cloudy day or at night the petals close up and nod downward.
Winterthur's bluebells aren't in bloom quite yet but the buds have appeared and will soon burst into bloom. Eirhart says that bluebell is her favorite native wildflower. 
"I love the bluebell's shades of blues and the touch of pink and purple you can get in the blossoms," she says. "Between the color of the flower buds and the last fading flowers, there is a good length of time of color interest."
Sue Barton also is a fan of Virginia bluebells, which grow in clusters near the creek on her property. "It's fun to come upon a mass of bluebells while walking in the woods," says Barton, who is ornamental horticulture specialist for University of Delaware Cooperative Extension.
But it's flowering redbuds, not bluebells, that signal that spring has sprung to Barton. 
"The redbud has an extremely colorful, dark purple or pink flower and an unusual habit of flowers borne directly on the stem," she says. "I like the 'Forest Pansy' cultivar because of its attractive bronze foliage."
This small native tree grows wild in many of Delaware woodlands. As you buzz down I-95, check out the large stand of redbuds by the roadside, just south of Wilmington. For a more leisurely setting to enjoy redbud blooms, head to the University of Delaware Botanic Gardens. You can find flowering redbuds there, and a whole lot more.
"In bloom, or soon to bloom, are a number of natives, including silverbells, fothergilla, serviceberry, redbud, dogwood and pawpaw," says Claudia Bradley, nursery coordinator for the UD Botanic Gardens.
She is particularly fond of fothergilla and tends to it not only in UD's gardens but also in her own home garden. "I always look forward to seeing the fothergilla in flower," says Bradley. "I like its bottlebrush white flowers now and, then, in fall, its awesome red color."
Mt. Cuba Center is another great place to check out spring blooms, especially since it's expanding its public hours. Starting April 19, you won't need a reservation to visit on Fridays and Saturdays, from 10 a.m. to 4 p.m. (From May 3 to July 26, the gardens will stay open until 7 p.m. on Fridays.)  Guided tours will still be available by reservation on other days and times. 
Chilly weather delayed some of the blooms at Mt. Cuba, just as it as at Winterthur and other area gardens. But now that it has warmed up, native spring ephemerals will soon emerge in Mt. Cuba's woodlands, reports Jeanne Frett, a research horticulturist at the center. Look for flowering liverleaf, trout lily, bloodroot, rue-anemone, cut-leaf toothwort and Dutchman's breeches. 
Trees and shrubs also are starting to bloom at Mt. Cuba. If you'd like some April flowering shrubs in your own yard, Frett suggests American bladdernut and spicebush. 
"Both of these are found locally in the woodlands and at Mt. Cuba Center," says Frett. "They're very appropriate choices for creating your own naturalistic gardens using locally native species."
Spicebush is one of Delaware's most common native shrubs. On the female plants, small clusters of yellow flowers appear now, and later develop into red fruit. American bladdernut isn't the most beautiful April bloomer but it could be the most interesting. 
"More of a curiosity than a specimen shrub, the American bladdernut has bell-shaped flowers that develop into three-lobed, inflated, brown papery capsules later in the season," says Frett. 
Article by Margo McDonough
Photo by Danielle Quigley