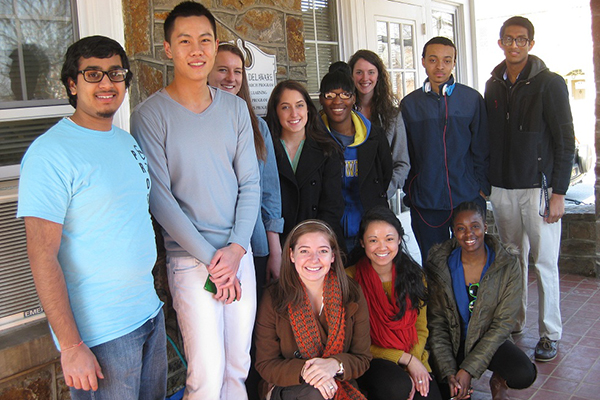 April 28: Service Summit
Students plan UD summit to discuss best community service practices
9:33 a.m., April 23, 2013--In February, 11 students from the University of Delaware traveled to the College of William and Mary in Williamsburg, Va., for a conference on active citizenship.
At the conference, the UD students, along with hundreds of students from other universities, discussed the best practices of community service organizations and how to better promote social change on college campuses.
From graduates, faculty
As it neared time for the processional to open the University of Delaware Commencement ceremonies, graduating students and faculty members shared their feelings about what the event means to them.
Doctoral hooding
It was a day of triumph, cheers and collective relief as more than 160 students from 21 nations participated in the University of Delaware's Doctoral Hooding Convocation held Friday morning on The Green.
Upon return, some students from the trip decided to adapt the event structure at the conference to a model that would work for a discussion among UD students. Called a "Service Summit," the event will be held Sunday, April 28, in Multipurpose Room B of the Trabant University Center, from 10 a.m.-1 p.m. The summit is open to all University students and faculty members.
The summit, cosponsored by University of Delaware Alternative Breaks, the Student Government Association, the Blue Hen Leadership Program, the Student Support Services Program, the Honors Program and Residence Life, will provide an opportunity for students to come together to discuss how to improve the service community at the University.
The event will feature a workshop on defining the primary assets of a service organization or project and later a discussion about how to best utilize those assets at the University.
The summit will also feature a panel session at which University faculty and administrators, along with representatives of local community organizations, will share their service experiences and take questions from students on how to improve their service groups.
The panel will feature Susan Serra from the Office of Service Learning, Matt Creasy from the Blue Hen Leadership Program, Raheemah Jabbar-Bey from the School of Public Policy and Administration, Daniel Reyes from the Food Bank of Delaware, Justin de Leon from the Newark Bike Project and Kathleen Alvin from Habitat for Humanity. 
Registration is required and can be completed via this form. 
Any questions can be sent to Lauren Pitruzzello at laurnp@udel.edu or Maggie Stohler at mstohler@udel.edu.