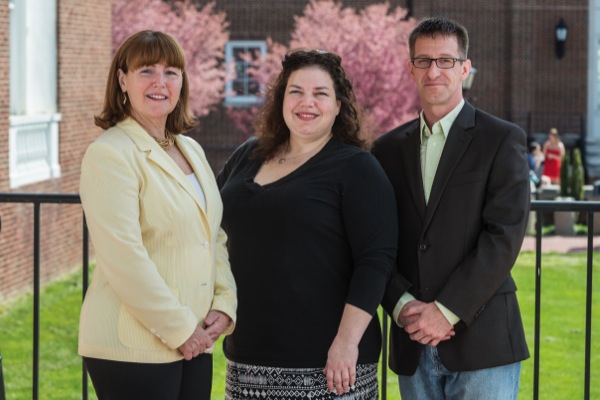 Salzburg Fellows
Three UD professors selected to attend Salzburg Global Seminar
1:40 p.m., April 26, 2013--Three University of Delaware experts will join colleagues from around the world at the Salzburg Global Seminar in Austria this year to discuss solutions to world challenges, from human rights to health care.
Founded in 1947 to encourage intellectual engagement with post-war Europe, the Salzburg Global Seminar today selects "imaginative thinkers" worldwide to engage in candid discussions of world issues and test ideas for solutions during weeklong sessions at the picturesque Schloss Leopoldskron. This famous 18th-century rococo palace was filmed as the home of the von Trapp family in the movie The Sound of Music.
Fulbright awards
Three University of Delaware students and an alumna have received word this spring that they will travel abroad as part of the newest class of Fulbright Student Program award winners.
Peace Corps plans
Two University of Delaware students, John McCarron and Bridgette Spritz, have been selected as Peace Corps volunteers and will serve in Ghana and Rwanda.
Selected as a Presidential Fellow, Dawn Fallik, assistant professor of journalism, will lecture and participate in discussions with journalism faculty and students at the Salzburg Academy on Media and Global Change, July 21-Aug. 10. Since 2007, more than 300 students from five continents and 50 faculty and deans from 21 universities have attended this academy focusing on the media's role in global society. Its aim is to create a global media literacy curriculum, complete with case studies, questions for critical thinking and analysis, and sample student assignments. 
Also selected as a Presidential Fellow, Matthew Weinert, associate professor of political science, will participate in "LGBT and Human Rights: New Challenges, Next Steps." This seminar, on June 2-7, will bring together 60 people with diverse professional and civic backgrounds, 40 from non-Western nations, to explore the evolving moral, legal, social and political landscape surrounding lesbian, gay, bisexual and transgender (LGBT) issues. The participants are expected to present a Salzburg Statement on next steps to the United Nations, the Council of Europe and other international bodies.
Nations are struggling to provide effective, efficient health care. Carolee Polek, associate professor of nursing, received a University of Delaware fellowship to attend "The Drive for Universal Health Coverage: Ensuring Greater Access to High-Value Care" on Dec. 8-13. Participants will analyze the proposition that structured teams delivering health care, with patient engagement an integral part of that teamwork, lie at the core of success. Case studies will suggest ways of generating innovative redesigns of care, as well as systems for evaluating them.
The University of Delaware has been involved in the Salzburg Global Seminar for nearly 30 years, according to Amy Johnson, deputy director of the Institute for Global Studies (IGS), which oversees the University's participation. 
Both full-time faculty and professional staff are eligible for the program. For more information, visit the Salzburg Seminar page on the IGS website. 
Photo by Evan Krape