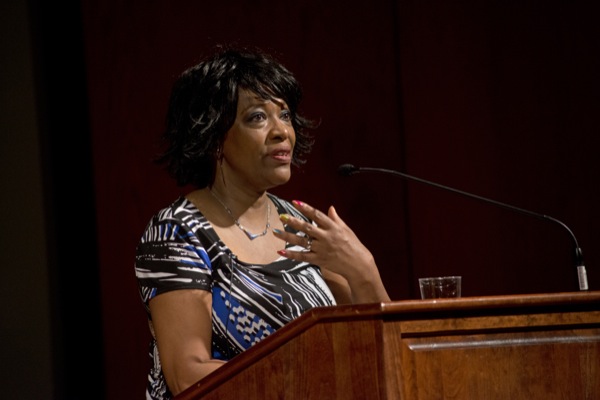 Rita Dove
Renowned poet tells UD audience story behind her recent book 'Sonata Mulattica'
12:43 p.m., April 23, 2013--Acclaimed poet Rita Dove was at home one night, watching a movie about Ludwig von Beethoven, when a dark-skinned actor among a group of on-screen musicians caught her eye. She wondered: Was this race-neutral casting, or was there actually a black violinist in Beethoven's Vienna? And if there was, why had she never heard of him?
Dove, a former U.S. poet laureate and Pulitzer Prize-winner, described that occasion during a talk at the University of Delaware last week. She went on to tell the 400 audience members about the way her curiosity led her to conduct extensive research on the subject and ultimately resulted in a book of poems, Sonata Mulattica.
'Resilience Engineering'
The University of Delaware's Nii Attoh-Okine recently published a new book with Cambridge University Press, "Resilience Engineering: Models and Analysis."
Reviresco June run
UD ROTC cadets will run from New York City to Miami this month to raise awareness about veterans' affairs.
The moment she first uncovered a few facts about mixed-race violin prodigy George Bridgetower, and the widespread fame he briefly enjoyed after meeting Beethoven in 1803, Dove said, "That set me on a journey, because I wondered why, why, why did he disappear?"
The book, she said, "tells the story of someone who was thoroughly forgotten and who did not deserve to be." 
Dove gave her public talk at UD on April 18 and held a reading and book-signing the next day. Both events were part of the Transnational Encounters program that has brought internationally known authors to campus through the Interdisciplinary Humanities Research Center in the College of Arts and Sciences.
The talks also marked the first in what will be a series of events during 2013-14 to celebrate the 40th anniversary of what is now the Department of Women and Gender Studies at UD.
In her April 18 talk, Dove read several selections from Sonata Mulattica, setting the scene for each with the details she had learned about Bridgetower's life.
The son of a Polish mother and a father who claimed to be an African prince, Bridgetower began performing at age 9 and became known in France and England as a violin virtuoso. He was sponsored by the Prince of Wales, who became King George IV, and played for some years in his private orchestra.
Bridgetower then set out for Vienna to meet Beethoven — "the bad boy" of music at the time, Dove said — and impressed the composer so much that he wrote and dedicated a violin sonata to the young man. The two performed it at a concert to great acclaim, but they later argued over a remark Bridgetower had made about a woman, and Beethoven tore up the dedication and ended the friendship.
The piece today is known as the Kreutzer Sonata, for violinist Rudolphe Kreutzer. Bridgetower continued to play in concerts, "but his moment of fame had passed," Dove said. He died in poverty in London at about age 80.
Dove read the first poem in her book, which outlines Bridgetower's life. "I put all the facts in that first poem because the facts aren't important," she said. "I didn't want to tell the story of his life; I wanted to understand his life."
Other poems are written from the perspective of Bridgetower's father, apparently a showman and a ladies' man, and of the 9-year-old prodigy himself as he traveled abroad. Still others re-create the place and time in which Bridgetower lived.
Sonata Mulattica is Dove's ninth collection of poetry, and she also has published essays, short stories, a novel, a play and a song cycle and has edited books of poetry. She won the 1987 Pulitzer Prize in Poetry and served as U.S. poet laureate from 1993-95. In addition to numerous other honors, she is the only poet to have been awarded both the National Humanities Medal (in 1996) and the National Medal of Arts (in 2011). She holds the chair of Commonwealth Professor of English at the University of Virginia.  
The events featuring Dove were organized and hosted by the departments of Women and Gender Studies, English and Foreign Languages and Literatures. Additional sponsorship was provided by the Center for Black Culture, Honors Program and Department of Black American Studies.
Article by Ann Manser
Photo by Duane Perry