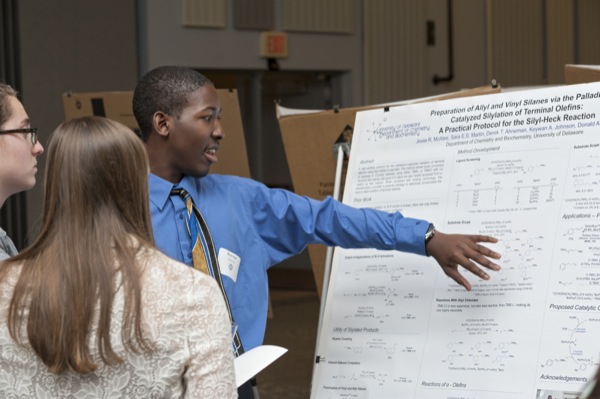 April 19: Poster session
Undergraduate Research Program sets Summer Scholars Poster Session
8:03 a.m., April 1, 2013--The University of Delaware Summer Scholars Poster Session, hosted by the Undergraduate Research Program, will be held from 2-4:30 p.m., Friday, April 19, in the Multipurpose Rooms of the Trabant University Center.
Approximately 100 of last summer's science, engineering and life science scholars will be giving poster presentations about their research.
Chronic wounds
UD's Millicent Sullivan and Kristi Kiick have received a $1.4 million grant from the National Institutes of Health for research that could provide a new approach to the treatment of chronic wounds.
Prof. Heck's legacy
The American Chemical Society is highlighting the legacy of the late Nobel laureate Richard Heck, the Willis F. Harrington Professor Emeritus of Chemistry at the University of Delaware with a digital tribute on its publications website.
Summer Scholars work for 10 full weeks during the summer, learning how to conduct research by taking an active role in the process.
Faculty members sponsor and guide scholars' efforts so that the students might understand and engage in research. The communication of results and of work in progress is essential to the conduct of any research.
The Summer Scholars Poster Session is open to the general public, and members of the community are welcome to stop by at any time during the presentations.
Photo by Evan Krape