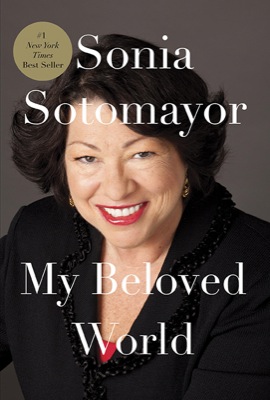 Freshman reading
Memoir by U.S. Supreme Court Justice Sonia Sotomayor selected as UD's next common reader
5:04 p.m., April 1, 2013--My Beloved World, a memoir by U.S. Supreme Court Justice Sonia Sotomayor, has been selected as the First Year Common Reader for the University of Delaware's incoming Class of 2017.
The shared common reader program is designed to engage incoming freshmen in a meaningful conversation with their fellow students, and they are encouraged to read it before coming to campus in the fall.  
From graduates, faculty
As it neared time for the processional to open the University of Delaware Commencement ceremonies, graduating students and faculty members shared their feelings about what the event means to them.
Doctoral hooding
It was a day of triumph, cheers and collective relief as more than 160 students from 21 nations participated in the University of Delaware's Doctoral Hooding Convocation held Friday morning on The Green.
My Beloved World chronicles Justice Sotomayor's life from a Bronx housing project to the federal bench and portrays that inspiring journey, which has been marked by extraordinary determination, the power of believing in oneself and the support of mentors, friends and family.  
In the book Justice Sotomayor — the first Hispanic and third woman appointed to the Supreme Court — describes with candor and intimacy her childhood, her family life  and what her diagnosis with juvenile diabetes taught her.  She also discusses her determination to become a lawyer, a dream that would be realized as she progressed from valedictorian of her high school class to the highest honors at Princeton, Yale Law School, the New York County District Attorney's office, private practice and appointment to the Federal District Court before the age of 40.
A fixture of The New York Times best-seller list since it was published earlier this year, My Beloved World has won high praise from critics. Calling the book "compelling" and "powerfully written," Michiko Kakutani of The New York Times wrote, "It's an eloquent and affecting testament to the triumph of brains and hard work over circumstance, of a childhood dream realized through extraordinary will and dedication." NPR's Nina Totenberg said, "This is a page-turner, beautifully written and novelistic in its tale of family, love and triumph. It hums with hope and exhilaration. This is a story of human triumph."
About Sonia Sotomayor
Sonia Sotomayor graduated summa cum laude from Princeton in 1976 and from Yale Law School in 1979. She worked as an assistant district attorney in New York and then at the law firm of Pavia & Harcourt. From 1992 to 1998, she served as a judge of the U.S. District Court, Southern District of New York, and from 1998 to 2009 on the United States Court of Appeals for the Second Circuit. In May 2009, President Barack Obama nominated her as an associate justice of the Supreme Court; she assumed this role on Aug. 8, 2009.
About the First Year Common Reader
The First Year Common Reader program seeks to engage incoming students with their peers and encourages them to share in the intellectual life of the entire UD community. During the fall semester, a variety of activities and events around the theme of the selected book are held on campus. 
Previous common readers have included Behind the Beautiful Forevers: Life, Death and Hope in a Mumbai Undercity by Katherine Boo and The Immortal Life of Henrietta Lacks by Rebecca Skloot. 
Faculty who are interested in teaching a First Year Seminar can contact Avron Abraham at avron@udel.edu.
For more information on the common reader and other First Year Experience programs, see the website.