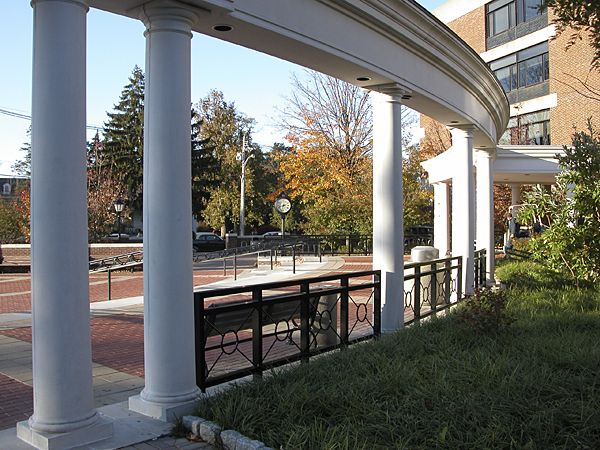 Financial literacy
New personal finance course open to students University-wide in fall 2013
10:03 a.m., April 12, 2013--What do an English teacher and an astrophysicist have in common? Or how about an engineer and an opera singer? From credit card and student loan debt, to home or car payments and filing taxes, a lot more than you might think.
The realities of personal finance management face every student after college graduation, but not all students are ready to face those realities.
From graduates, faculty
As it neared time for the processional to open the University of Delaware Commencement ceremonies, graduating students and faculty members shared their feelings about what the event means to them.
Doctoral hooding
It was a day of triumph, cheers and collective relief as more than 160 students from 21 nations participated in the University of Delaware's Doctoral Hooding Convocation held Friday morning on The Green.
That's why, in an effort to support financial literacy and help all UD students build their personal finance skills, the Department of Finance in the Alfred Lerner College of Business and Economics will offer a new course this fall.
Financial Literacy (FINC167), taught by UD alumnus Mark Goldfus, will introduce students to wealth-building and risk management techniques that can lead to financial independence and a more enjoyable life.
The course will be open to all University students and no financial or mathematical background is required.
According to Goldfus, who served as general counsel, corporate law and senior vice president at Merrill Lynch and Co. Inc. through 2009, the course will teach students strategies on saving, spending, investing, risk and taxes on topics ranging from credit management and insurance to housing and educational costs.
But students should check their preconceived ideas about financial planning (think Tom Cruise in Risky Business or Michael Douglas in Wall Street) at the door.
"This course won't teach students to be stockbrokers or earn millions overnight and it's also not just about planning for retirement" said Goldfus. "But students will gain the financial knowledge required for an enjoyable, rewarding life in the 21st century."
"Mark brings a marvelous and interesting background to this course," said Helen Bowers, chair of the department, who also noted Goldfus' roles in managing legal aspects of corporate governance and finance, principal investing and mergers and acquisitions would lend a unique perspective to student learning.
In addition to his senior vice president role, Goldfus most recently served as director of public policy at Merrill Lynch. He also served as special counsel to the chairman of the U.S. Securities and Exchange Commission.
He holds a law degree from the University of Pennsylvania and a bachelor's degree with high honors in history from UD.
Goldfus was awarded a Fulbright Fellowship to study in the United Kingdom but chose to enroll as a VISTA Volunteer, where he served among the Oglala Sioux and then in inner city St. Louis. He also farmed for two years in the Negev Desert, Israel.
Michal Herzenstein, assistant professor of business administration who helped see the course to fruition, added that she has had students in her own courses conduct research on personal finance and is excited to see a focused course offered for non-business majors.
"There are so many basic skills that are essential to students being prepared to do well financially post-graduation," said Herzenstein. "Take a simple example: If you put $100 in a savings account that yields one percent a year, five years later most people would guess you'd have $105. That answer is close but it's wrong and that's because most people don't understand compound interest."
So how much money would you have after five years? Students interested in the answer will just have to enroll to find out.
Article by Kathryn Meier