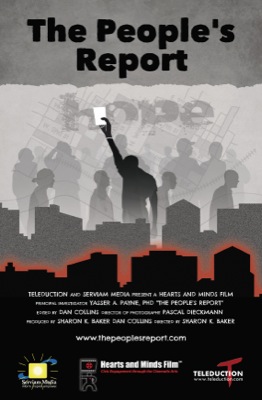 April 26-28: 'People's Report' screenings
Payne, team to discuss documentary 'The People's Report' in Wilmington
3:20 p.m., April 18, 2013--Screenings of The People's Report, a documentary on violence in Wilmington highlighting the work of a University of Delaware professor and the Wilmington Street Participatory Action Research (PAR) team, will be held April 26, 27 and 28 in the city.
The film, which includes footage added since February, highlights studies on physical violence and structural inequalities in the city that were conducted by Yasser Payne, associate professor in the Department of Black American Studies, and the PAR.
June 5: Blue Hen 5K
University of Delaware graduates planning to attend Alumni Weekend are encouraged to register for the annual Blue Hen 5K walk and run, which will be held Sunday morning, June 5.
June 6-9: Food and culture series
The 20th annual June Lecture Series at the Osher Lifelong Learning Institute at UD in Wilmington will be held June 6-9. Titled 'June a la Carte,' this year's program focuses on great political documents, feminism, world politics and a Newark cuisine sampler.
A panel discussion with PAR members will follow the viewing of the documentary. This discussion will explore solutions and interruptions to violence in inner city communities.
The screenings will be held as part of the WilmFilm Festival at the Penn Cinema Riverfront, 401 S. Madison St., Wilmington.
Show times are:
4 p.m., Friday, April 26;
12:15 p.m., Saturday, April 27; and
2:15 p.m., Sunday, April 28.
Tickets cost $9.50 and can be purchased at the festival website.