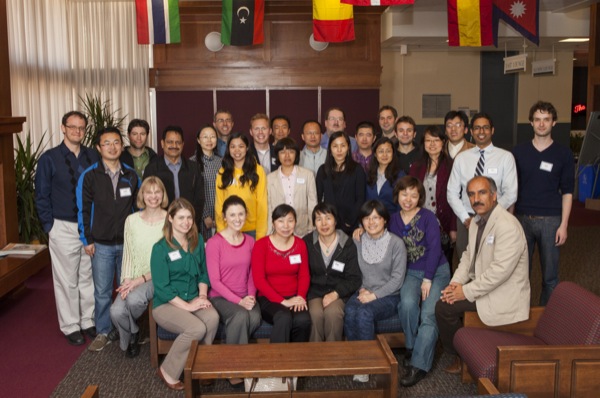 Newark: A welcoming home
International scholars learn what Newark has to offer residents
8:54 a.m., April 30, 2013--The University of Delaware's International Caucus invited a cohort of newly arrived international faculty and postdoctoral scholars to a luncheon conversation on April 25 with Andrew Haines, deputy city manager, to talk about what the city of Newark has to offer its residents.
The 25 participants represented a wide range of countries: China, South Korea, Mexico, India, Germany, France, Belgium, Iran, Mauritius and Nepal. They found Newark easy to get around, friendly and energized as a college town. Questions ranged from accessibility to mass transit to ethnic foods, recreation and awareness of local activities.
Fulbright awards
Three University of Delaware students and an alumna have received word this spring that they will travel abroad as part of the newest class of Fulbright Student Program award winners.
Peace Corps plans
Two University of Delaware students, John McCarron and Bridgette Spritz, have been selected as Peace Corps volunteers and will serve in Ghana and Rwanda.
Haines extended a warm welcome to the international residents, highlighted the city's amenities, services and events, from its bike trails to Newark's annual Community Day. He invited the group to make use of Newark's Facebook and Twitter presence as a way to stay up-to-date and get information.
"I was contacted by Gabriele Bauer, chair of the International Caucus, to participate in this outreach to the international scholarly community," Haines said. "The engaging event exceeded my personal satisfaction as a city employee who is committed to assisting new community members integrate into Newark. The University and city enjoy a rewarding partnership, and this luncheon provided me in my role as deputy city manager a venue to welcome and support the international members of our city.  I am excited about this new collaboration."
The international scholars said they enjoyed the informal opportunity to talk with a city representative and learn about the services offered; the conversation helped put them at ease in their new home away from home. Basu Kafle, professor and postdoctoral researcher in the School of Education, who is on leave from teaching in Nepal, commented that he has been impressed by the University's attempts to welcome and embrace its international scholars with events such as the luncheon. 
Xiaojun Shan, postdoctoral fellow in civil engineering from China, indicated that the luncheon provided a great forum for meeting others, socializing with international colleagues, asking questions and gaining information: "Everyone has their own unique needs, interests and experiences" said Shan, "and these voices need to be heard." 
The event was also attended by representatives of the Office for International Students and Scholars and the English Language Institute, two offices central to providing support for international students and scholars. The International Caucus works in concert with these offices to provide opportunities for international faculty and staff to socialize and network, and make them aware of both resources and opportunities for personal and professional growth.
The International Caucus is one of nine caucuses; it collaborates with other caucuses, groups, programs and units to support and advance diversity and equity efforts on campus. Caucus membership is open to all UD faculty and staff; to join this and/or other caucuses, visit this website. 
Photo by Ambre Alexander