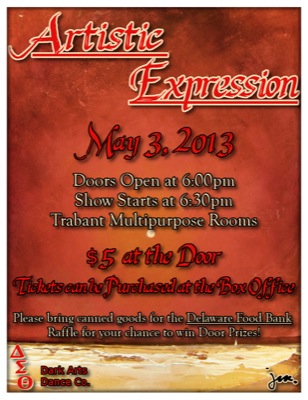 April 30-May 4: May Week
University sorority plans variety of May Week activities
8:37 a.m., April 24, 2013--The Delta Sigma Theta sorority's Mu Pi chapter at the University of Delaware has announced a variety of May Week activities, beginning April 30 and continuing through May 4.
A highlight of the week will be the Artistic Expression event on Friday evening, May 3, which is co-sponsored by the Dark Arts Performing Company.
June 5: Blue Hen 5K
University of Delaware graduates planning to attend Alumni Weekend are encouraged to register for the annual Blue Hen 5K walk and run, which will be held Sunday morning, June 5.
June 6-9: Food and culture series
The 20th annual June Lecture Series at the Osher Lifelong Learning Institute at UD in Wilmington will be held June 6-9. Titled 'June a la Carte,' this year's program focuses on great political documents, feminism, world politics and a Newark cuisine sampler.
Artistic Expression will be held in the Multipurpose Rooms of the Trabant University Center. The doors will open at 6 p.m. with the show at 6:30.
Tickets cost $5 and are available at the UD box offices.
Those who attend are encouraged to bring canned goods for the Delaware Food Bank.
Other activities are as scheduled as follows:
Tuesday, April 30, "Are You in the Know: Right to Bear Arms," 6:30-8:30 p.m., 001 Mitchell Hall.
Wednesday, May 1, "Stomp Like an Elephant," 6-8 p.m., 303 Gore Hall, wear comfortable fitness clothing and sneakers.
Thursday, May 2, "Heart of the Matter," 6:30-8:30 p.m., 208 Gore Hall, wear comfortable fitness clothing and sneakers.
Saturday, May 4, Ladies Night Out, co-sponsored by the Multicultural Greek Congress, 7-9 p.m., Christiana Commons.
For a flyer about May Week, click here.