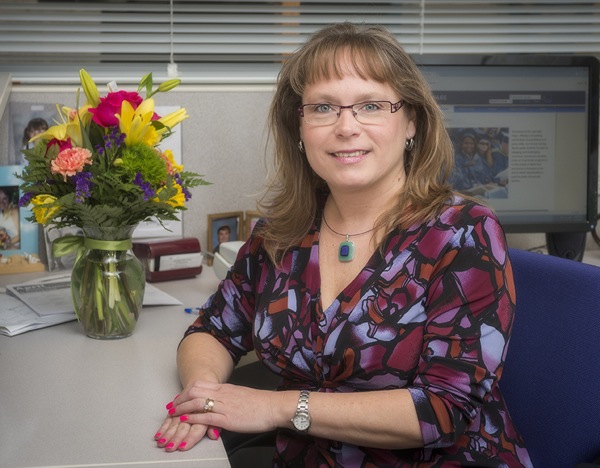 HR Liaison of Quarter
Economics department administrator named HR Liaison of Quarter
12:50 p.m., April 17, 2013--Tammy Simpson-Turner, administrative assistant in the University of Delaware Department of Economics, has been named Human Resources Liaison of the Quarter for the first quarter of 2013.
The award identifies and recognizes an outstanding performer within the HR liaison community for the preceding quarter.
June 6: UDid It! Picnic
All UD faculty and staff members are invited to attend the annual UDid It! employee appreciation picnic, set from 11 a.m.-1:30 p.m., Monday, June 6, on The Green.
2FA protects you
If you are using two-factor authentication (2FA), even if a hacker has your password, your information is probably safe.
James L. Butkiewicz, department chairperson and professor of economics, said that Simpson-Turner excels in all performance areas.
"Tammy interacts positively with students, faculty and administrators," Butkiewicz said. "She is an excellent representative of the Department of Economics, in the Lerner College of Business and Economics and the University." 
Noting the many responsibilities of the position, Butkiewicz cited Simpson-Turner for her accuracy and thoroughness in completing personnel matters in a timely and accurate fashion. 
"Her knowledge, attention to detail and positive attitude make my job easier," Butkiewicz said. "It's a pleasure to work with Tammy and she is a highly valued member of the department." 
Departmental duties for Simpson-Turner include financial management of the department, compliance with UD and government policies and entering course schedules in UDSIS each semester. 
Also included are processing HR/payroll and other administrative matters for faculty, staff, miscellaneous wage earners and visiting professors and scholars. 
Noting that she was surprised and honored to be named Liaison of the Quarter, Simpson-Turner said that she enjoys working with "a great group of individuals within my department and college." 
"It's the people, and at the end of the day, it's nice to know that you were able to help someone," Simpson-Turner said. "I enjoy helping students, faculty and staff. I also feel that by working in an academic environment I learn something new every day."  
Article by Jerry Rhodes
Photo by Kathy F. Atkinson