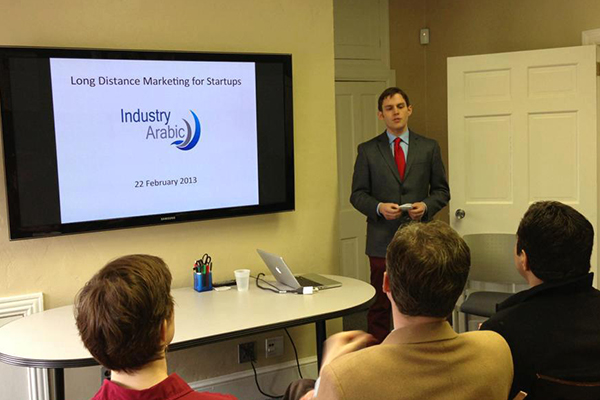 Industry Arabic
Delaware alumnus discusses international entrepreneurship
10:41 a.m., April 1, 2013--Corporations that hope to expand on an international scale must have the resources available to regularly and effectively communicate with foreign industries. Nathan Field, a 2005 University of Delaware graduate, said he aims to fill this need by providing technical and legal Arabic translation services to firms working in the Middle East. 
Field, who presented at a Horn Program in Entrepreneurship Free Lunch Friday earlier this semester, co-founded Industry Arabic with William Ward 2011 with the goal of offering the best general and technical Arabic-English translators with an emphasis on highly responsive customer service.
'Resilience Engineering'
The University of Delaware's Nii Attoh-Okine recently published a new book with Cambridge University Press, "Resilience Engineering: Models and Analysis."
Reviresco June run
UD ROTC cadets will run from New York City to Miami this month to raise awareness about veterans' affairs.
Along with translating technical documents focused on subjects like oil and gas, mining, construction and engineering, Industry Arabic also offers live interpreters for events and meetings. In addition, the company provides translation services in Dari and Farsi as well as customer marketing materials and cultural training courses for interested clients.
Field, who studied history with an international focus while at UD, said he first considered the need for translation services with individuals who had a more in-depth business vocabulary while working for a U.S. company in Saudi Arabia.
"We constantly had challenges dealing with the language barrier," said Field. "Most people did not speak English and there was a big gap in available services. Those specific experiences led to the foundation of Industry Arabic."
Field explained that while most individuals working for American and European companies do not know Arabic, the people who work in Middle Eastern companies often do not know English either. He said Arabic is the language of business in the Middle East and companies that communicate primarily in English often come to Industry Arabic to bridge the language gap.
Field said his UD education played a significant part in his success in the entrepreneurial world and noted the University's "very international-oriented perspective" aided him in considering the needs of those whose work takes them to different parts of the globe.
He also credited his experiences studying abroad for a semester in France and living in Normandy for Winter Session in 2004 with shaping his worldview.
"Being immersed in a foreign culture was really informative for me," Field said. "It really helped me think of the world internationally and allowed me to look at the world from a global perspective. The University also funded my senior thesis in London and France, and the experience I gained there helped mold my international perspective."
Field also credited his family with teaching him critical lessons on entrepreneurship, especially his father, a 1978 UD graduate.
In hindsight, Field said he would have added more business courses to his undergraduate studies to help smooth the transition to starting Industry Arabic and becoming his own boss. He said he was glad to see the latest activities the Horn Program is offering for students interested in entrepreneurship.
"The students asked good, insightful questions and I am really impressed with what the Horn Program is doing," said Field of his visit to present a Free Lunch Friday talk on long-distance marketing earlier this semester. 
During his talk, which focused on how Industry Arabic gets the word out about its services via email marketing, telemarketing and networking, Field explained that although the company has had a steady stream of clients since late 2011, he almost never meets clients face-to-face because they are located in different time zones and the company needs to consider alternative ways of marketing.
"The business climate has changed in the past few years," Field said. "It's very easy to pick up clients who are far away. Skype has made long distance communication practically free and creating websites is cheap. Information about different businesses can be found anywhere on Google. Things like this couldn't have been done 10 years ago."
Article by Rachel Taylor
Photo courtesy of Industry Arabic