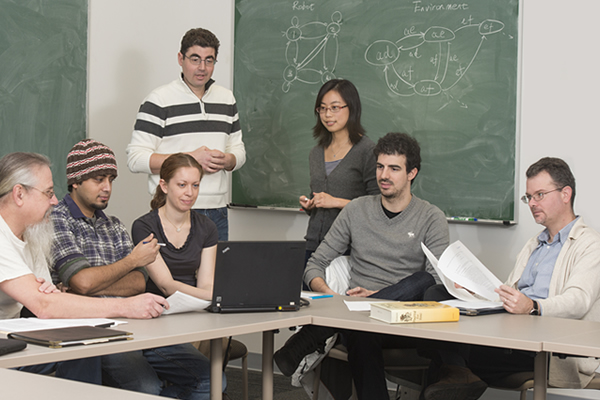 Highlighting interdisciplinary efforts
GradImpact newsletter showcases interdisciplinary graduate programs, research
3:06 p.m., April 1, 2013--The spring 2013 issue of the University of Delaware's GradImpact newsletter focuses on collaborative research partnerships and interdisciplinary programs at UD, and is available online now.
Each semester, the publication showcases UD's growing graduate enterprise and explores its impact on local, national and global communities.
From graduates, faculty
As it neared time for the processional to open the University of Delaware Commencement ceremonies, graduating students and faculty members shared their feelings about what the event means to them.
Doctoral hooding
It was a day of triumph, cheers and collective relief as more than 160 students from 21 nations participated in the University of Delaware's Doctoral Hooding Convocation held Friday morning on The Green.
"The global growth in interdisciplinary research has been embraced and encouraged by both federal and private funding agencies," said James Richards, vice provost for graduate and professional education.
Richards added, "Successful interdisciplinary programs benefit from the participation of strong academic departments and from faculty willing to develop and engage in interdisciplinary education and research."
Highlighted in this issue are several unique UD research efforts that capitalize on partnerships across colleges and departments. For example, doctoral students Zach Voras (chemistry) and Kristin de Ghetaldi (preservation studies) are collaborating in UD's Surface Analysis Facility to analyze ingredients in tiny paint samples of historic artworks.
Another interdisciplinary research effort is the one led by UD associate professors Jeffrey Heinz (linguistics and cognitive science) and Bert Tanner (mechanical engineering), studying how information from human language learning can inform how robots learn from their experiences to better accomplish mission objectives.
In addition, the newsletter features a few of the many graduate interdisciplinary programs offered at UD.
Noted Richards, "Interdisciplinary graduate programs attract students from highly diverse fields and provide them with the opportunity to make unique contributions to specific problems while simultaneously learning from a wide spectrum of disciplines."
Also highlighted in the spring issue: UD's new 194,000-square-foot Interdisciplinary Science and Engineering Laboratory (ISE Lab) set to open this fall, online graduate degrees, programs that support graduate student research and career development, and several stories featuring honors and achievements of graduate students and alumni.
GradImpact is distributed to potential graduate students, to UD's community partners, as well as to UD faculty and administration. A limited number of print copies are available. The spring 2013 issue of GradImpact can be viewed online.