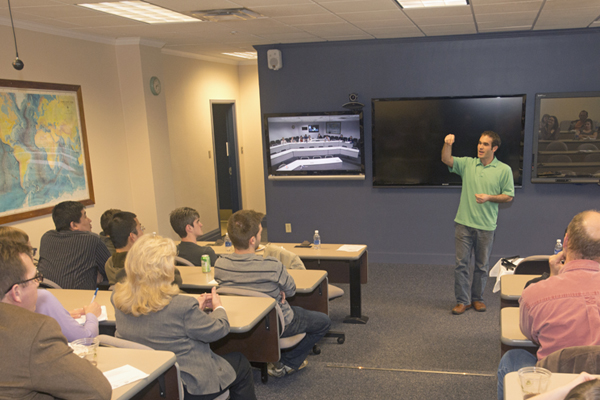 Sharing research
Students translate academic research into plain English at Graduate Research Cafés
1:03 p.m., April 18, 2013--Giant penguins lived in the Southern Ocean 40 million years ago, growing as tall as 6 feet and weighing 200 pounds. Their demise may have been due to factors affecting modern species of penguins today: competition for food and a changing climate. 
Megan Cimino, a doctoral student in the University of Delaware's College of Earth, Ocean, and Environment (CEOE), opened the final Graduate Research Café of the academic year on Monday with that hook into her work on changing penguin habitats in Antarctica. The talks are designed to capture the interest of a lay audience while sharpening the presentation skills of graduate students.
Chronic wounds
UD's Millicent Sullivan and Kristi Kiick have received a $1.4 million grant from the National Institutes of Health for research that could provide a new approach to the treatment of chronic wounds.
Prof. Heck's legacy
The American Chemical Society is highlighting the legacy of the late Nobel laureate Richard Heck, the Willis F. Harrington Professor Emeritus of Chemistry at the University of Delaware with a digital tribute on its publications website.
Cimino shared how Adélie, Gentoo and Chinstrap penguins have distinct habitat preferences in Antarctica connected to sea temperature and the amount of sea ice. As temperatures increase, penguins may migrate into new areas or run out of suitable habitat, she said. 
Cimino and her colleagues use underwater robots to sample ocean conditions in areas where penguins tagged with tracking devices forage. They hope to use climate projections to predict where penguins will breed in the future. 
"Penguins serve as an indicator of ecosystem change," Cimino said. 
In the second 20-minute presentation, chemical and biomolecular engineering doctoral student Peter Beltramo explained the peculiar properties of colloidal particles at the nanoscale. Football-shaped polymer particles, only one-thousandth the width of a human hair, line up in the same direction in solution when an electric field is applied. 
Beltramo is studying the sound properties of these self-assembled particles at high frequencies, around the same frequency as Wi-Fi. Theoretically down the road, the work could have applications on blocking soundwaves with specialized paints or materials. 
Beltramo and other Graduate Research Café presenters this semester worked with communications consultant Barbara Garland to prepare their presentations. The exercises helped the students translate jargon they use in academia into terms and examples easily understandable by non-experts. 
"The reason why I did this is because it's such a new environment to speak in," Beltramo said. 
In a new twist to the series, Monday's café was held in simulcast between Newark and the Hugh R. Sharp Campus in Lewes, where CEOE maintains research and teaching facilities. The speakers communicated with audiences via interactive television (ITV) classrooms and took questions from attendees in both locations. 
The occasion gave an opportunity for CEOE graduate students from both campuses to interact, which does not always happen regularly. 
"I actually think it's really good to have a chance to listen to other students," said oceanography doctoral student Feili Li. "I appreciate it."
The forum was modeled after the popular Science Café for faculty to share their research in an informal setting, usually at the Deer Park Tavern in Newark. Both series keep slides and props to a minimum, and the Graduate Research Cafés are open to researchers from any discipline — science-related or not. 
"We wanted to make it a little broader than Science Café," said event organizer and philosopher professor Tom Powers. 
Previous Graduate Research Café subjects were art conservation, biomechanics, literature and nanomedicine. The series kicked off in February and was established with support from the Office of Graduate and Professional Education, the Center for Science, Ethics and Public Policy, the Interdisciplinary Humanities Research Center, Delaware EPSCoR and the National Science Foundation.
Article by Teresa Messmore
Photo by Duane Perry