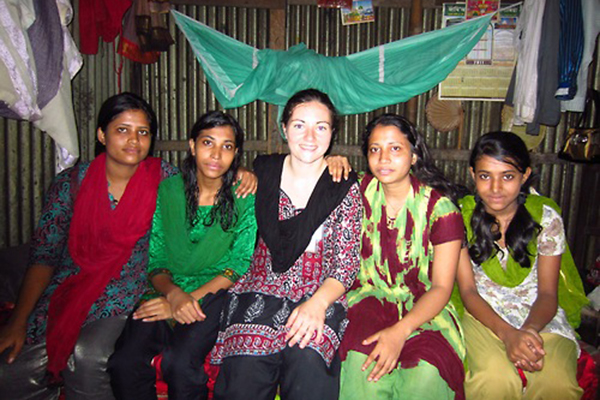 Student Fulbright awarded
Graduating senior to conduct women's health research in India
1:11 p.m., April 18, 2013--Elizabeth Hetterly, a University of Delaware Dean's Scholar and Honors Program student, has received a Fulbright U.S. Student Award for 2013-14 to work and conduct research with a nonprofit in India on improving women's health.
Hetterly, who will graduate in May with a double major in biological sciences and sociology, previously pursued independent research in Bangladesh as a Plastino Scholar and, more recently, with the support of an Honors Enrichment award. She spent last summer and then Winter Session in that country working with an international health research institution studying community-based solutions to reduce maternal mortality rates. She also interviewed adolescent girls about their access to and experience with family planning services.
Fulbright awards
Three University of Delaware students and an alumna have received word this spring that they will travel abroad as part of the newest class of Fulbright Student Program award winners.
Peace Corps plans
Two University of Delaware students, John McCarron and Bridgette Spritz, have been selected as Peace Corps volunteers and will serve in Ghana and Rwanda.
Now, with the Fulbright Award, she plans to work for at least nine months in Mumbai, India, with the Society for Nutrition, Education and Health Action. The nonprofit organization works at the community level in poor areas of the city to empower women and create sustainable improvements in urban health.
"My research is on community-based strategies for improving women's health and empowerment," Hetterly said. "I'll be focusing on the social factors that influence or constrain women's ability to access health care, especially during pregnancy, as well as how women themselves are active agents in organizing their communities to improve health."
At the end of the Fulbright grant period, she said, she hopes to remain in India for another year and then attend graduate school to study some combination of gender studies, public health and sustainable social change. Although she had planned for some time to go on to medical school, Hetterly said her global experiences have made her more interested in pursuing a career in public health policy.
Through public health work both in the United States and in South Asia, "I realized the kind of impact I could have … addressing the root causes in our society that cause people to become sick in the first place," she said. 
Article by Ann Manser