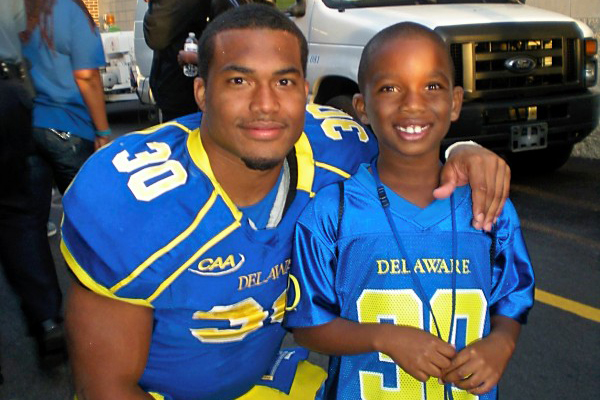 April 20: Football scrimmage, activities
UD football fans can register children for Football Skills Fun in Milford
11:41 a.m., April 9, 2013--The new era of University of Delaware football is underway with spring practice this month under the leadership of head coach Dave Brock and his staff.
A new event will take place when the Blue Hens hold a scrimmage on Saturday, April 20, at Milford High School. Fans are invited to come out for a day of free fun, football and giveaways beginning at noon.
Rower honored
University of Delaware junior Claire Brown has been named second team Collegiate Rowing Coaches Association All-Region.
Unsung Hero
The One Love Foundation has announced that University of Delaware men's lacrosse standout Elijah Conte has been selected as a winner of the 2016 YRL Unsung Hero Award.
Concessions and merchandise will be sold and tailgating (no alcohol permitted per school district policy) will be encouraged. The scrimmage will begin at 2 p.m.
Boys and girls 4-12 years of age can register by Wednesday, April 17, to participate in Football Skills Fun with select Blue Hens football student-athletes prior to the scrimmage. Programming will start at 12:30 and continue until 1:30 p.m. Check-in will be from 1noon to 12:30 p.m. To register (one form per child) click here.
Radio Disney will be on site to provide interactive entertainment, and Delaware T-shirts will be distributed to the first 150 fans in attendance. 
Bounce House fun and the team's gameday inflatable helmet will be up for fans to make their entrance.
YoUDee and the University of Delaware cheerleaders will also be on hand to add to the spirit. 
A post-scrimmage football meet and greet will give fans the chance to join their favorite Blue Hens football student-athletes on the field for autographs and photos.
For a complete timeline and full programming details, click here.