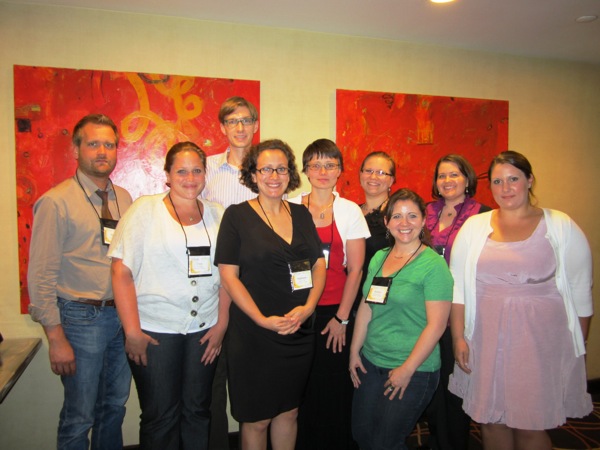 Doctoral academic career development
Travel fellowships available for premier teaching conference
6:23 p.m., April 8, 2013--Focused on learning, teaching and assessment in higher education, this regional teaching conference presents a unique professional development opportunity for future faculty to refine their teaching skills, support their growth as teacher-scholars in the discipline, deepen their understanding of faculty roles in different institutional contexts and network with faculty across East Coast institutions. 
Last year, 10 doctoral candidates were awarded the fellowship and took away the following experiences: 
June 6: UDid It! Picnic
All UD faculty and staff members are invited to attend the annual UDid It! employee appreciation picnic, set from 11 a.m.-1:30 p.m., Monday, June 6, on The Green.
2FA protects you
If you are using two-factor authentication (2FA), even if a hacker has your password, your information is probably safe.
"The Lilly Conference was a wonderful professional development experience. I now feel more confident in my ability to navigate the academic job market. The most significant benefit was to begin to develop a network of teacher-scholars across disciplines who truly care about teaching, and I have added several effective pedagogies to my teaching repertoire—all of which are empirically proven to enhance student learning."  
"The cross-disciplinary nature and atmosphere of the conference are a major benefit. I particularly liked that the sessions were designed to provide participants with strategies and knowledge that could be directly applied in the classroom. The presenters shared their knowledge about their classroom practice—what worked well, what fell short of expectations, how they made changes. This format was very useful for thinking about my own teaching."  
"I believe this opportunity made me more competitive on the job market and better prepared for my academic career. I think that it strengthened the value of a Ph.D. from the University of Delaware, because I will be viewed as a stronger candidate and junior faculty member."
"The session on moving through the tenure journey gave me a sneak peak of what lies ahead of me on my academic journey. It helped me realize that getting the degree is not the only hard part of succeeding as a professor. I have begun to shift thinking about my dissertation as a final sprint to the finish to viewing it as an opportunity to develop lifelong academic skills. I now have a deeper understanding of what I should be doing for tenure from the very start so I will be less stressed and distracted by trying to navigate this process."
For the application guidelines and application form, please visit this website. Fellowship applications are due by Monday, April 22. 
"In collaboration with the Office of Graduate and Professional Education, we are committed to support our UD doctoral candidates in their role as future faculty as we have witnessed the instructional and academic career impact that results from this interdisciplinary professional experience. We strongly encourage interested doctoral candidates to apply," noted Gabriele Bauer, associate director, CTAL.
If you have questions about the fellowship or application process, please contact Bauer at gabriele@udel.edu.