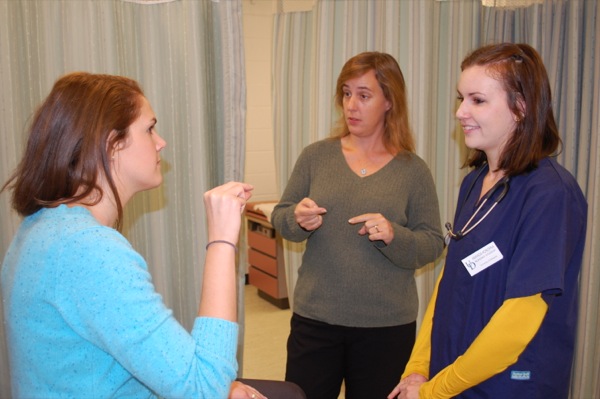 Statewide needs assessment
Individuals with disabilities asked to share health care experiences
1:21 p.m., April 18, 2013--The University of Delaware Center for Disabilities Studies (CDS) is collaborating with the Department of Health and Social Services to improve the health of people with disabilities in Delaware.
With funding from the Centers for Disease Control and Prevention, CDS is conducting a statewide needs assessment of adults and children with disabilities. 
From graduates, faculty
As it neared time for the processional to open the University of Delaware Commencement ceremonies, graduating students and faculty members shared their feelings about what the event means to them.
Doctoral hooding
It was a day of triumph, cheers and collective relief as more than 160 students from 21 nations participated in the University of Delaware's Doctoral Hooding Convocation held Friday morning on The Green.
Faculty, staff and students with disabilities at UD are encouraged to share health care experiences they have had at the University and in the larger community. CDS is interested in both the positive and negative experiences individuals with disabilities have had establishing a relationship with a doctor, using facilities and equipment, paying for care, and living a healthy lifestyle.
The findings from this process will help guide improvements in the delivery of care.
Members of the UD community are welcome to give input through an online survey or at one of three community meetings that will be held throughout the state of Delaware at the end of April. The online survey can be found at http://bit.ly/ZkUqoa.
The dates, times and locations of the community meetings are as follows:
Wednesday, April 24, 5 to 7 p.m.
Georgetown Public Library
123 West Pine Street, Georgetown, Del.
Monday, April 29, 6 to 8 p.m.
Delaware Technical Community College, Dover
Corporate Training Center (Building 400), Room 400B
100 Campus Drive, Dover, Del. 
Tuesday, April 30, 6 to 8 p.m.
Delaware Technical Community College, Wilmington
Conference Room A
333 Shipley Street, Wilmington, Del. 
Light snacks and refreshments will be served at each meeting.
For more information or to schedule a session at a community meeting, please contact Kara Magane at 302-831-0140 or kmagane@udel.edu.
About CDS
The Center for Disabilities Studies in the College of Education and Human Development at the University of Delaware is celebrating its 20th anniversary in 2013. As a University Center for Excellence in Developmental Disabilities, CDS supports the well-being, inclusion and empowerment of people with disabilities and their families.
The mission of the center is to enhance the lives of individuals and families through education, prevention, service and research related to disabilities. CDS promotes independence and productivity so individuals and families can fully participate in the life of their communities in Delaware and beyond. 
For further information, visit the CDS website or call 302-831-6974. There is also a CDS Facebook page.