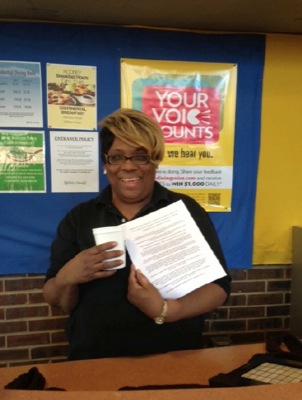 Dining Employee of Month
RSA sponsors new Dining Employee of the Month Program, names first recipient
8:41 a.m., April 26, 2013--Students eating breakfast or lunch at the University of Delaware's Rodney Dining Hall can always expect a warm welcome thanks to Diana Johnson. Johnson — or Miss Diana as she is affectionately known — has been named the first Resident Student Association Dining Employee of the Month.
"It is an honor being voted employee of the month of March by all my UD students," said Johnson. "You all touch my heart and I am so thankful."
June 6: UDid It! Picnic
All UD faculty and staff members are invited to attend the annual UDid It! employee appreciation picnic, set from 11 a.m.-1:30 p.m., Monday, June 6, on The Green.
2FA protects you
If you are using two-factor authentication (2FA), even if a hacker has your password, your information is probably safe.
The Resident Student Association (RSA) sponsors the new Dining Employee of the Month Program with support from Dining Services. The idea to honor dining employees began with sophomore Danielle Imhoff.
Imhoff, vice president of intra-collegiate affairs on the RSA executive board, serves as the liaison between RSA and various departments such as Public Safety, Housing Assignment Services, and Dining. 
As part of her position, Imhoff hears both complaints and compliments frequently. She wanted to bring attention to the positive things she hears from fellow students.  
"Why not highlight the good things?" she asked. 
Imhoff, who is also part of the Blue Hen Leadership Program, worked closely with Dining Services to create a monthly recognition program for the dining employees who go above and beyond.
"There are definitely standout people," she said, "Like the person who makes your omelet every morning and knows your name, or Miss Diana who also greets students by name. If these people are getting recognized, it might make other employees want to step up as well." 
Students can nominate a special dining employee from any dining establishment on campus by visiting the RSA website and filling out the form under the "Documents/Resources" tab. 
The employee with the most appropriate nominations each month will be notified with a flyer containing comments from the submission forms and a small prize.
"I think the best thing about this program is the recognition," said Imhoff. "Sometimes it's better just to be recognized than to get some huge grandiose gift." 
Students praised Johnson with various comments of gratitude.
"Makes everyone feel special," said one student.
"Nicest lady on earth," said another.
Flyers congratulating Johnson were placed around campus and highlighted on the Dining Services Facebook page, where the news received a great response from both students and their parents. 
"Miss Diana's reaction was more than I could have ever expected," said Imhoff. "She was so appreciative and excited."
Imhoff hopes the Dining Employee of the Month Program will continue in years to come.
"I hope it becomes part of the dining culture at UD," she said. 
Click here to view a PDF version of this month's congratulatory flyer.
Article by Kelley Bregenzer